Distance to go: 0 Mi

Distance

Ben and Tarka will cover 1800 miles starting from Scott's Terra Nova Hut at the edge of Antarctica to the South Pole and back to the coast again. That's equivalent to 69 back-to-back marathons hauling up to 200kg each (the weight of roughly two adult men) of kit and supplies necessary to survive.

Distances here are shown in statute miles.
90 Degrees South (Day 63)
Day 63: S89° 52' 1.14", E178° 50' 19.32"
Duration: 18 Hr 00 Min
Daily distance: 35.3 Mi
Distance to go: 890.5 Mi
Temperature: -26 °C
Wind chill: -35 °C
Altitude: 9364 Ft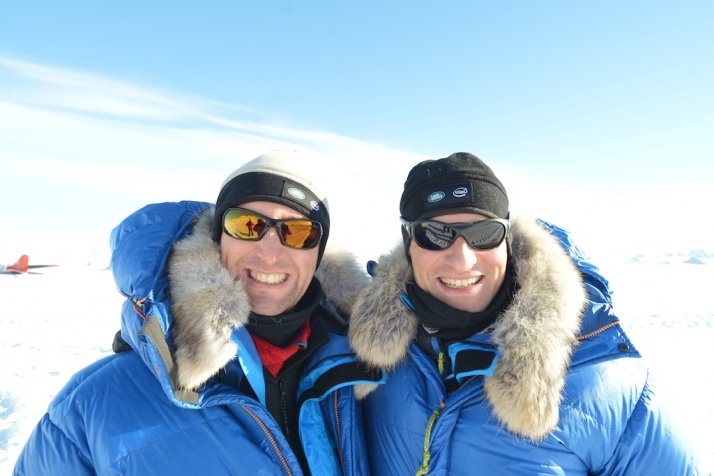 Yesterday evening at 20.35 GMT Ben and Tarka reached the South Pole and marked the halfway point of the Scott Expedition. They have since turned around and have started their journey skiing back to the coast 900 miles away.
Ben sends his apologies for not writing an update himself but after skiing 35.31 miles (56.83km) yesterday and almost 19 hours on thier feet he understandbly couldnt quite muster the energy to put pen to paper and express the emotions of this landmark day. Ben will be sending a full update in the next 24 hours once they have completed another days skiing. Ben and Tarka thank you all for your unwavering support that helped them reach the pole.
I am immensely proud of Ben and Tarka's achievement reaching the South Pole and in particular for having the strength to turn around and start the return journey back to the coast.
Today's photo was taken just before Ben and Tarka flew from Union Glacier to McMurdo at the start of thier expedition two months ago