Distance to go: 0 Mi

Distance

Ben and Tarka will cover 1800 miles starting from Scott's Terra Nova Hut at the edge of Antarctica to the South Pole and back to the coast again. That's equivalent to 69 back-to-back marathons hauling up to 200kg each (the weight of roughly two adult men) of kit and supplies necessary to survive.

Distances here are shown in statute miles.
As Good as it Gets (Day 35)
Day 35: S82° 32' 17.988", E169° 31' 43.320"
Duration: 8 Hr 30 Min
Daily distance: 18.7 Mi
Distance to go: 1443.6 Mi
Temperature: -8 °C
Wind chill: -17 °C
Altitude: 138 Ft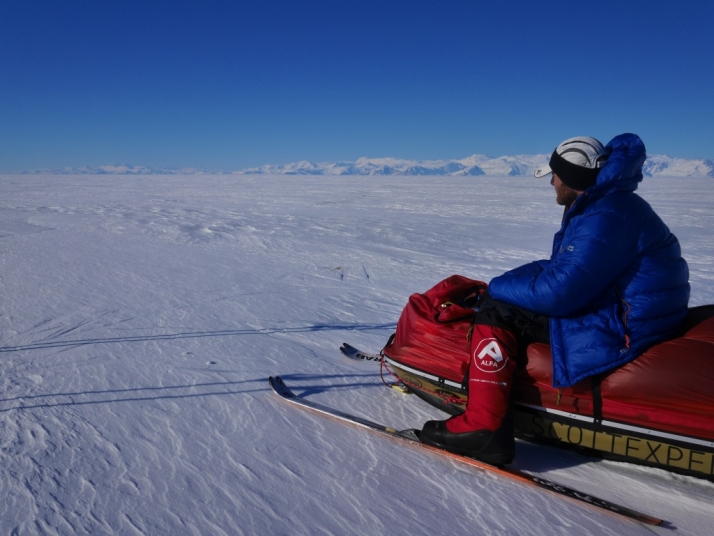 I wondered during the first ten or so days of this expedition if we'd ever get a day like today. Early on, when the surface was like glue and our nearly 200kg sleds seemed almost impossible to move; when we worked like dogs and bruised our hips from pulling so hard just to get 3.5 miles (5.7km) in a day, I was hating this expedition. I had never suffered physically so much in my life, yet I didn't want to admit my misery.
People sent well-meaning messages like "Enjoy every second, you've worked so hard to get there" and "Don't forget to take time to look around and appreciate how lucky you are", and all I could do was swear and curse and grit my teeth as we dragged our absurdly heavy loads inch by inch into the murky whiteout, our skis sinking into the snow's soft crust and the blizzard lashing and spitting at us, raging against the insult of our presence. Perhaps I've gone soft, I wondered to myself. I'm sure I used to have moments of pleasure and contentment on expeditions so profound that they've kept me dragging sleds for twelve years. Yet it never came. I'd expected to fall in love with Antarctica in a flash, yet all I seemed to feel was horror at the sentence I'd imposed on myself, embarrassment that we could hardly move our sleds, and a gloomy resignation at the monotony of the cloud, the wind, the sticky snow and the pan-flat horizon whichever way I turned.
Things have improved each day, of course, and today was the one where it all made sense. The sun was out, the wind was gentle (and even puffed feebly at our backs for a brief spell), the surface was fine, and we pushed beyond the 30km barrier for the first time. All day, the mountains to our right seemed to expand in scale and majesty, and framed by a few high brush strokes of cloud, the beauty of the view and the sense of awe and gratitude and privilege I felt at being here were something I'm struggling to put into words. How many people, I thought, have seen this range with their own eyes?
It was a special day, and given the pace we're sustaining (and way the distances we're covering each day are increasing) Tarka and I are both feeling pretty content as we lie here this evening with bellies full of chicken and pasta.
I'm going to sign off by wishing all of my friends in America (I was happily reflecting today that there are too many of you to list here) - and indeed everyone in the United States who's reading this - a very happy Thanksgiving.
And I've got a few answers for Liz Hoskins' class who posted some questions on the blog:
Q) (From Olivier) How many times have you fallen over? A) Haha! That's top secret. (Actually, I think Tarka's going to talk about that when he sends his blog post back - apparently it's nearly ready...)
Q) (From Sasha) Why is it called Antarctica? A) Hi Sasha. Embarassingly, I'm not really sure, other than that it's at the opposite end of the planet to the Arctic. Let me know if you can find out any more detail than that!
Q) (From Mia) Have you had any fun with snowballs? A) Thanks Mia! I'm sad to say that the snow here is rubbish for snowballs (or snowmen) - it's dry, powdery and fine and doesn't stick together at all well. The most fun I have in the snow is digging a hole every evening in the porch of our tent, about two feet deep, so we can step down into it and sit on the edge of our inner tent like a chair in order to take our boots off (and put them on again in the morning). I'll send back a photo soon to show you what it looks like, but I've always loved digging holes!