Distance to go: 0 Mi

Distance

Ben and Tarka will cover 1800 miles starting from Scott's Terra Nova Hut at the edge of Antarctica to the South Pole and back to the coast again. That's equivalent to 69 back-to-back marathons hauling up to 200kg each (the weight of roughly two adult men) of kit and supplies necessary to survive.

Distances here are shown in statute miles.
Eighty-eight Forty-two (Day 59)
Day 59: S88° 42' 43.38", E158° 35' 3.18"
Duration: 9 Hr
Daily distance: 21.7 Mi
Distance to go: 992 Mi
Temperature: -15 °C
Wind chill: -24 °C
Altitude: 10115 Ft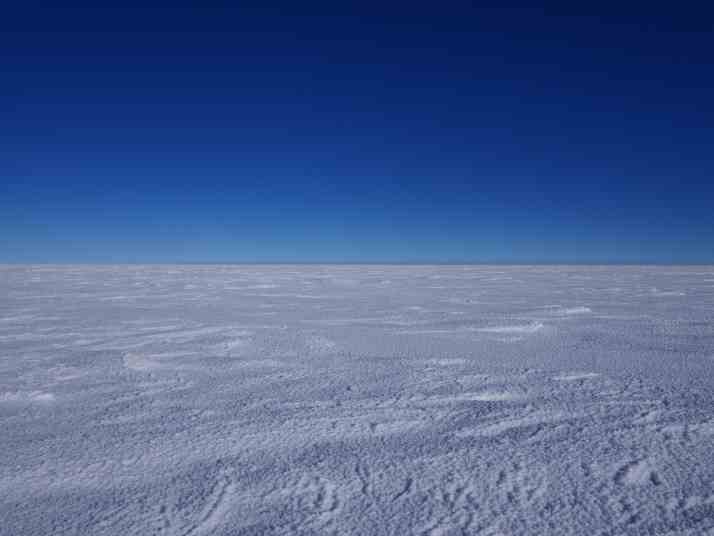 Another hard day in the office for Tarka and me, but nearly 35km (21.7 miles) in the bag, which we're pleased with considering the conditions today. We were treated to a complete whiteout this morning and had zero visibility until early this afternoon, when in the space of about twenty minutes the fog and cloud smothering us vanished and was replaced with blue sky and bright sunshine.
The temperatures swung wildly: it was quite mild when we set off (-14 degrees C.) but became markedly colder when the sky cleared. It's been snowing a lot for the last few days and the surface as a result has been really challenging, with lots of deep, fluffy sticky, fresh snow that means our sleds create deep furrows rather than gliding over the top.
We're nearly at 89 degrees south now, one degree of latitude away from the South Pole (we should get there on Boxing Day) and it occurred to me today that we camped last night almost exactly at the point of Sir Shackleton's "Furthest South", where he turned around on 9th January 1909, heading back to the coast at Ross Island, along the same route we'll soon be taking. With our heads down and legs and arms driving away to make the mileage we need, it's often easy to get so caught up in the task we've set ourselves that we forget the incredible history of endeavour and endurance that this deep-frozen plateau holds.
One interesting phenomenon we're experiencing quite a bit these days is large areas of snow settling as we ski over them, often with an alarming tremor, the sensation of the ground sinking beneath you by an inch or so, and an occasionally quite loud thunder-like rumble. Frightening the first time, but quite fun now, and it certainly spices up the daily grind.
Last up, we realised tonight that what we thought were the early symptoms of snow-blindness may in fact be caused by fumes from our stove, which doesn't burn quite as well at this 3,000m+ altitude, along with the fact that we can't ventilate the tent much in the high winds up here. So I probably didn't need to spend this afternoon staggering around with my goggles taped over so much that my vision was restricted to a slit like a medieval suit of armour...