Distance to go: 0 Mi

Distance

Ben and Tarka will cover 1800 miles starting from Scott's Terra Nova Hut at the edge of Antarctica to the South Pole and back to the coast again. That's equivalent to 69 back-to-back marathons hauling up to 200kg each (the weight of roughly two adult men) of kit and supplies necessary to survive.

Distances here are shown in statute miles.
Flat Light (Day 30)
Day 30: S81° 17' 28.2", E168° 55' 40.2"
Duration: 8 Hr
Daily distance: 14.2 Mi
Distance to go: 1530 Mi
Temperature: -8 °C
Wind chill: -17 °C
Altitude: 164 Ft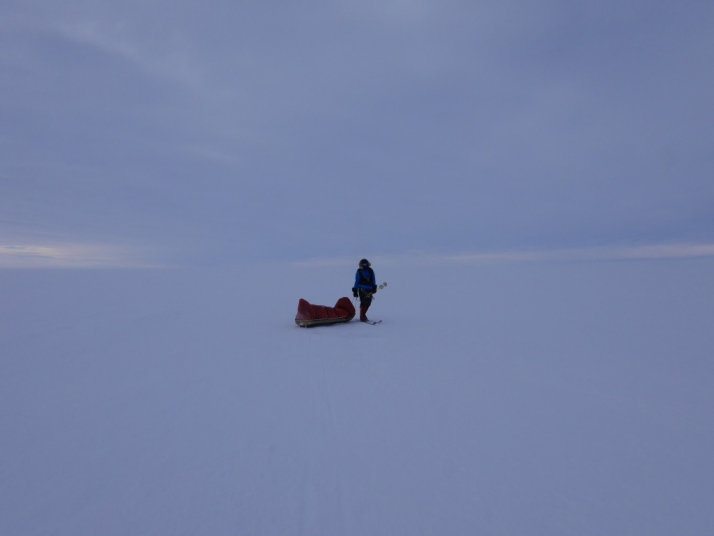 Antarctica made us work for it again today. There's been a lot of fresh, drifted snow which made the surface far less slippery for our sleds, the wind was full-pelt into our faces all day, and we travelled under a blanket of thick, grey cloud. We had a few spots of complete whiteout, and when the sun did appear it was merely as a faint light-grey disc behind a thick veil that never parted. We had a flat light all day, with hardly any contrast or shadow, which makes navigation (we normally look for interesting lumps of snow on our bearing) particularly hard.
I had one emergency pit-stop in the afternoon, which is never much fun in the land of double-digit windchill, chest-high salopettes, giant mittens and no soap, running water or toilets. On the whole though, I think the hot curry did the trick as I felt far stronger today.
The one highlight of the day lasted about thirty minutes, when the cloud to our SW (ahead and to our right as we skied) lifted at the horizon to give us a brief but tantalising long-range glimpse of some mountains, not far off our bearing. They're a long way off (and probably the Nash Range, the Holland Range, or both) but the sight of land was enough to lift our spirits. I even did a little dance when Tarka was in the lead and I was sure he wasn't looking, though skis, poles and a harness limited my moves somewhat.
We were so determined to get a good night's sleep tonight that we spent a while building a chest-high curved wall, upwind of the tent. Tarka expertly cut blocks with our ice axe while I carried them over to the tent and turned his immaculate rectangles into a wall. Thankfully it's doing a brilliant job and there's a lot less buffeting and noise as I lie here typing in the tent. I thought of Scott and his men as I lugged the heavy blocks around; they used to build walls to protect their ponies in the same sort of weather, and it must have been incredibly hard work.
We're setting the alarm for 6am to try to get a nine-hour day in tomorrow (with food/drink breaks and the time it takes to set up and take down our tent, that means more like 12 or 13 hours outside) so I'll sign off now as I need my beauty sleep.