Distance to go: 0 Mi

Distance

Ben and Tarka will cover 1800 miles starting from Scott's Terra Nova Hut at the edge of Antarctica to the South Pole and back to the coast again. That's equivalent to 69 back-to-back marathons hauling up to 200kg each (the weight of roughly two adult men) of kit and supplies necessary to survive.

Distances here are shown in statute miles.
Retracing Our Steps (Day 74)
Day 74: S87° 26' 32.88", E159° 34' 56.94"
Duration: 8 Hr 30 Min
Daily distance: 21.2 Mi
Distance to go: 721.5 Mi
Temperature: -28 °C
Wind chill: -41 °C
Altitude: 9856 Ft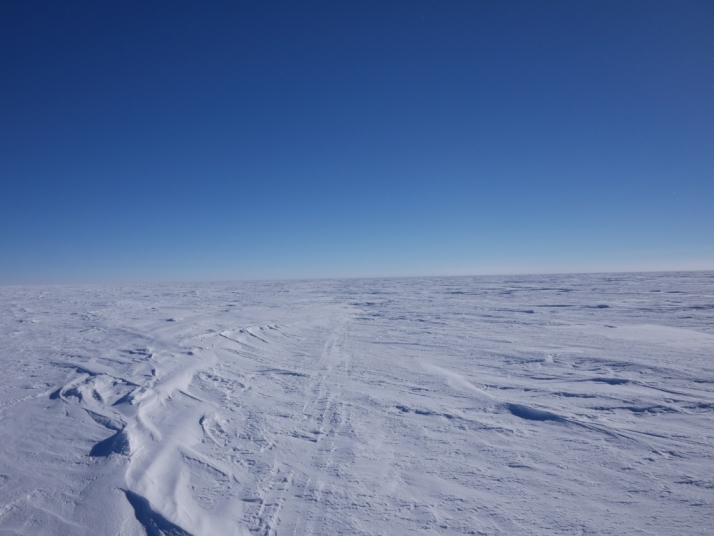 A relatively gentle day for us today as I was keen to ease back into our high-mileage routine without knackering myself out again. It was -41 windchill all day, which normally I'd make a fuss about but I gather rather a lot of the USA have had worse weather of late, so I'll just say that it's still pretty nippy for a camping trip.
We've been lucky enough to be able to follow our old tracks all day today, though at times that proved a mixed blessing as the lack of a requirement to navigate removed any sense of intellectual challenge for whoever was in the lead.
The surface and weather were both about as good as it gets today, though the lack of scenery is starting to drive us both a bit batty. Tarka feigned a hilarious tantrum as we pitched our tent this evening saying he was "Fed up having to build our home from scratch every night".
I thought a lot about Scott and his men as we skied today, wondering how they dealt with similar temperatures and windchill in their cotton jackets, woollen mid-layers and reindeer-skin sleeping bags (which by all accounts were either damp or hopelessly iced-up most of the time). I realised I have no idea what they slept on to insulate their exhausted bodies from the ice -blankets perhaps?- and not for the first time felt spoilt and cosseted with my heat-reflective ridged-foam sleeping mats and down-filled sleeping bag.
Now my brain seems to be functioning again and is no longer near-fully consumed with food cravings (we're back to our normal rations now after retrieving our depot, and I noted with relief today that I no longer had the urge to rip open the plastic wrapper of our chunks of salami to lick up all the white grease) I've been reading in the evenings again. It's wonderful to be able to escape for a while before falling asleep, and I've just started Steinbeck's Travels with Charley in Search of America (thanks Al!). It's a glorious book, full of lines that seem extraordinarily apt out here: "A journey is a person in itself; no two are alike. And all plans, safeguards, policing and coercion are fruitless. We find after years of struggle that we do not take a trip; a trip takes us" and "For how can one know colour in perpetual green, and what good is warmth without cold to give it sweetness?"
Andy's sending a load of your questions through via email now that we're back online again, so I'll answer a handful of those tomorrow. Thanks for following.