Distance to go: 0 Mi

Distance

Ben and Tarka will cover 1800 miles starting from Scott's Terra Nova Hut at the edge of Antarctica to the South Pole and back to the coast again. That's equivalent to 69 back-to-back marathons hauling up to 200kg each (the weight of roughly two adult men) of kit and supplies necessary to survive.

Distances here are shown in statute miles.
Scorchio (Day 25)
Day 25: S80° 14' 55.08", E168° 42' 35.46"
Duration: 8 Hr
Daily distance: 13 Mi
Distance to go: 1602.1 Mi
Temperature: -11 °C
Wind chill: -20 °C
Altitude: 207 Ft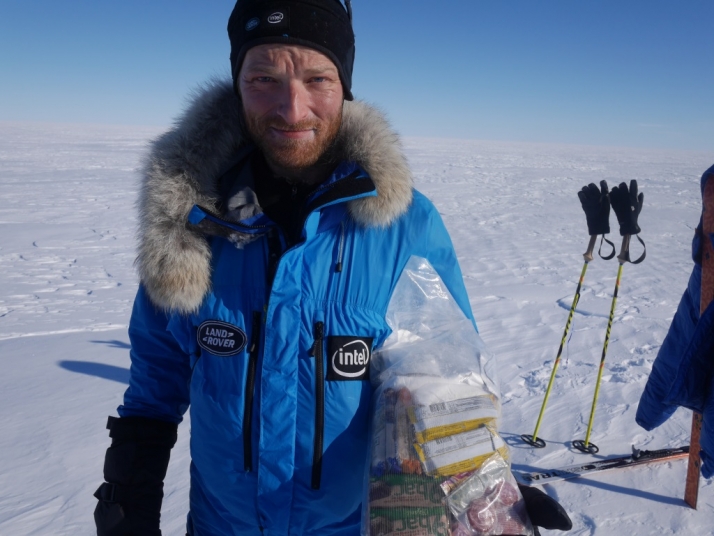 Pretty much perfect weather today. The Kestrel weather meter said -11 degrees C. this morning and -20C windchill, but blue sky and beaming sun meant it felt a great deal warmer. We had a slight headwind for the first couple of hours - enough to need a mask but not full-on goggles - and then it became stiller and hotter as the day went on. We skied the last hour with our jackets flapping open, salopettes unzipped at the sides, fleece headbands covering our ears and thin gloves instead of our usual jumbo mittens.
We're in the tent now in just our thermals and it's incredibly warm in the bright sunshine. It seems strange to think that just a couple of weeks ago we dived straight into our sleeping bags as soon as the day ended, and I remember trying one night to decide whether to sleep with my gloves on or not. It's remarkable how little we wear when the weather's good.
Minus twenty windchill sounds cold, but here's a list of everything I wore when we started skiing today:
- Alfa North Pole Extreme GTX ski boots with Intuition Universal liners
- Smartwool Mountaineer socks (I no longer wear my thin Bridgedale Coolmax liner socks and my feet seem happy, warm and blister-free in one pair of socks. Tarka wears his liners and loves them)
- Compressport calf guards (a bit of an experiment but so far, so good)
- Patagonia Capilene thermal leggings (thin ones, I can't remember the exact name)
- Skins compression shorts
- Patagonia Capilene boxer shorts
- Mountain Equipment windproof salopettes (custom-made)
- Patagonia Capilene long-sleeve thermal top (zip neck, thin material and not the thicker expedition-weight)
- Mountain Equipment windproof jacket (custom-made)
- Marmot wrist warmers
- Mountain Equipment Touch gloves (thin fleece liner gloves)
- Brenig Pertex/pile mittens (custom-made, and I switched to Mountain Equipment Randonee gloves when it got warmer)
- Outdoor Research Gorilla balaclava
It looks like a long list, but we were really just wearing thin thermals and a windproof outer layer, with no insulation. Skiing hard, that's all we needed to regulate our temperature, and we put on our big Mountain Equipment Gasherbrum down jackets when we stop for breaks.
On colder days I also add a second pair of Mountain Equipment thermal leggings (I can't remember their name but we call them Ninja Pants...) and we have a couple of weights of fleece jackets to choose from, the warmest being a Mountain Equipment Concordia jacket.
We broke the 13 mile barrier for the first time today, so we're celebrating with freeze-dried lamb stew this evening.
The photo is of one of our vacuum-packed food bags; rations for both of us for 24 hours and pretty much 6,000 calories each.
And finally a belated thank you to Tony for his satellite-transmitted joke. More please! (What do you do if you're attacked by a group of clowns? Go for the juggler.)