Distance to go: 0 Mi

Distance

Ben and Tarka will cover 1800 miles starting from Scott's Terra Nova Hut at the edge of Antarctica to the South Pole and back to the coast again. That's equivalent to 69 back-to-back marathons hauling up to 200kg each (the weight of roughly two adult men) of kit and supplies necessary to survive.

Distances here are shown in statute miles.
The Sun Has Got His Hat On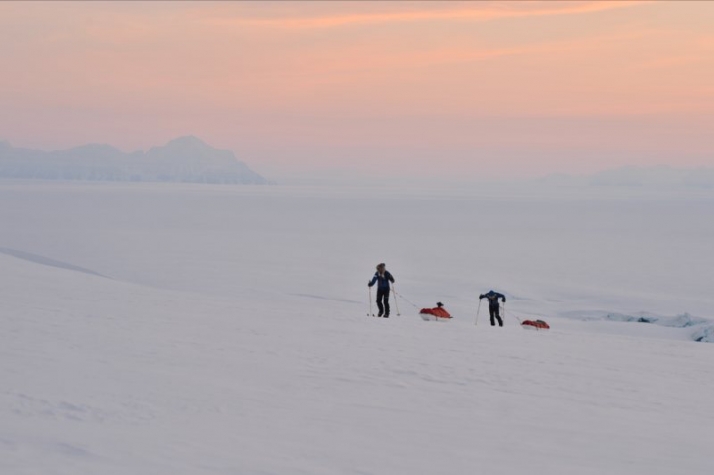 The heatwave that we hear is currently sweeping across the arid plains of Battersea Park and Parsons Green appears to have finally touched the eastern edge of Greenland. We're still living in our own peculiar timezone, stopping last night at 7am to get some kip, and we ended up sweltering, complaining and fidgeting on top of our sleeping bags in our underwear, with every one of the tent's zips undone as the sun reached its midday inferno.
It is so warm that the snow blocks stored (for eventual melting and consumption) in a black bag in the porch of our tent turned to slush overnight, and it is difficult to imagine that just a few miles away and a few days ago we had windchill in the minus thirties, with beards freezing to masks and fingers sticking to metal spoons and camera bodies.
In 24 hours time the three of us will be back in the semi-civilisation of Constable Point (electricity, a 3G signal and running water but no roads or flushing toilets yet). As we broach our fortnight mark on the ice, one happy realisation is that we are becoming more comfortable out here and not less so; our strange life in our mobile fabric home is becoming more normal by the day and this bodes well for four months together in Antarctica later this year, inching our way across a wilderness the size of India and China combined, yet spending half the time lying on the floor of an area that feels barely larger than the boot of my Land Rover.
A few days ago my girlfriend signed off a text message to our Iridium satellite phone with the words "Enjoy your ski back". Slogging uphill into a blizzard later that day, fingers half-frozen, a raging, grumbling hunger in my stomach, and cursing a recalcitrant sledge that still weighs more than I do, I wondered if I perhaps hadn't explained this trip properly to her. But of course it has all been profoundly enjoyable. We are experiencing wilderness and isolation that few will ever taste. We are undoubtedly the first human beings to camp where I am lying now, and the horizon that circles us is jagged with the teeth and ramps and pyramids of mountains that have never been climbed. I'm not certain they even all have names. Our conversation and thoughts have occassionaly turned to the dozen dead on Everest this spring, and the huddled hundred-strong summit queues on fixed ropes, waiting desperately for their moment at the top. Of course we haven't conquered anything in the past fortnight; we've just done a long-ish out-and-back walk, less than 200 miles in all, but I can't help thinking as I get to know Greenland better, that this glorious place will always offer more to the soul than it ever could to the ego.