Distance to go: 0 Mi

Distance

Ben and Tarka will cover 1800 miles starting from Scott's Terra Nova Hut at the edge of Antarctica to the South Pole and back to the coast again. That's equivalent to 69 back-to-back marathons hauling up to 200kg each (the weight of roughly two adult men) of kit and supplies necessary to survive.

Distances here are shown in statute miles.
Wishing the Days Away (Day 77)
Day 77: S86° 30' 8.4", E159° 37' 7.8"
Duration: 9 Hr
Daily distance: 21.6 Mi
Distance to go: 656.6 Mi
Temperature: -22 °C
Wind chill: -34 °C
Altitude: 9295 Ft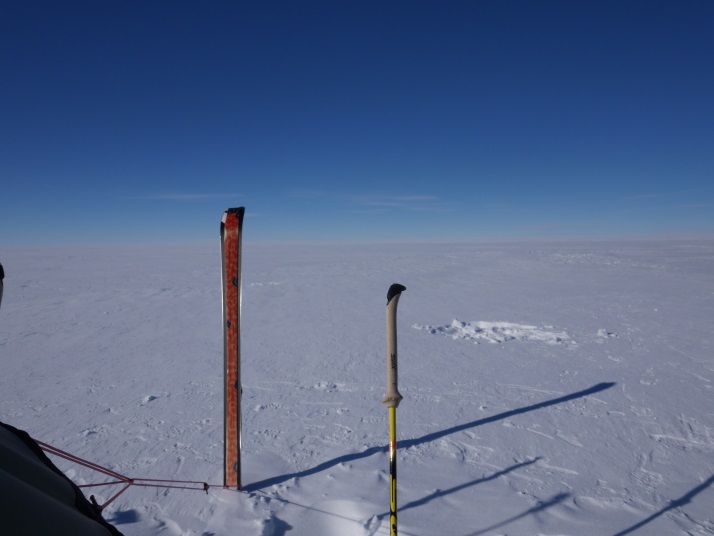 "Never in my life have I wished days away like this", Tarka shouted over to me as we sat on our sleds at our second break today. We generally shout to each other at break times as, although we sit barely a metre apart, we're usually being blasted by the wind and we're also wearing little in-the-ear headphones which, with our music turned off, seem to amplify chewing, crunching and swallowing noises to an extraordinary level. I know what he means, and I'm happy that today seemed to fly by for me as I strung together daydreams; snippets of happy memories mixed with plans for the future, seen as short, imaginary film clips that I tend to revisit and embellish, or occasionally as actual to-do lists that I'll try to remember to write down in my little Field Notes diary in the tent in the evening.
I meant to say yesterday that we'd lost our old tracks, erased by wind and snowfall, so we're back to navigating on a bearing now. The person in the lead (we swap every 45 minutes and now travel for six 90-minute sessions per day with five breaks of 10-15 minutes) takes compass bearings on memorable-looking bits of snow and skis towards them, and the person behind follows in their tracks. We've both found that we prefer to navigate in silence and to follow with music on.
It was warmer today and we suffered less as a result, though I think it would be a rare day indeed on this giant, deep-frozen plateau that anyone would describe as pleasant. We worked hard for nine hours, and were both mildly disappointed to see we hadn't racked up more miles for our slog, though we had a couple of uphill stretches that slowed us down enormously, and we're back to the region that Andy described as "moguls" when we came through it in the other direction; countless troughs and valleys, though at least we're generally descending now we're heading north, and we dropped about 80 metres today.
One unfortunate side-effect of the lack of scenery and visual stimulus is that we once again forgot to take any photographs today, so Tarka poked his camera out of the door and snapped the attached, which won't win any composition awards, but is representative of our view for 12 hours per day, minus the dug-up patch where he mined our drinking water for this evening.