Distance to go: 0 Mi

Distance

Ben and Tarka will cover 1800 miles starting from Scott's Terra Nova Hut at the edge of Antarctica to the South Pole and back to the coast again. That's equivalent to 69 back-to-back marathons hauling up to 200kg each (the weight of roughly two adult men) of kit and supplies necessary to survive.

Distances here are shown in statute miles.
A Sunday Lie-in (Day 52)
Day 52: S86° 40' 29.34", E159° 42' 14.52"
Duration: 6 Hr 30 Min
Daily distance: 13.5 Mi
Distance to go: 1134.1 Mi
Temperature: -24 °C
Wind chill: -40 °C
Altitude: 9224 Ft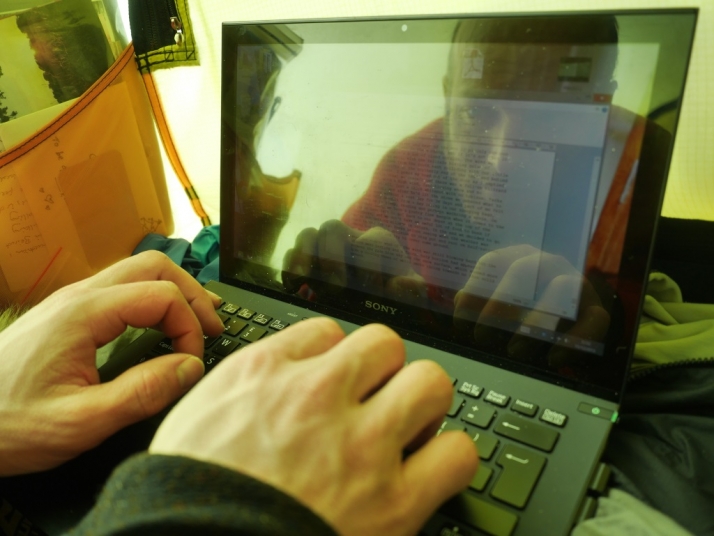 We woke up at six this morning to a suspiciously dimly-lit tent. Usually the bright glare and heat of the sun is plainly obvious on one side of the tent in the morning, but if it's not then it probably means there's a lot of cloud outside. The wind was blasting away as well, with the tell-tale hissing noise of spindrift and snow from the south east colliding with our little home, forming drifts at the northerly end of the tent and behind each of our sleds. I poked my head out of the door as I emptied the pee bottle (that we share!) and there was a full-on blizzard in progress, with a high wind, fast-blowing snow and no visibility at all, just a thick whiteout with no horizon.
Tarka had a look too, and after he'd lit the stove we debated what to do. We'd gone without a rest day for 36 days and part of me felt we could only benefit from a day lazing in our sleeping bags, catching up on sleep, reading and perhaps watching a movie. On the other hand, we have a pretty fine margin when it comes to the food we have left to get back to our depot at the top of the Beardmore, and we don't have an awful lot of food to burn if we're not getting mileage in return. In the end we decided to go back to bed for two hours before seeing what the weather was doing and making a decision to stay put and rest on half-rations, or to go for it and try to cover some ground.
When our alarms went off the wind was still blowing hard but the clouds were parting and a fuzzy, hazy horizon had appeared between the pale blue sky and the snow surface, which seemed more like a rolling sheet of white smoke racing towards us than solid ground. We decided to go for it, and ended up grinding out 13.49 miles (21.72km) in six-and-a-half hours, which we decided was acceptable enough. The wind has been relentless all day, and when Tarka took his turn to lead the spindrift formed perfect vortices behind his sled, like the leading edge of an aircraft wing taking off on a wet day. I clocked the windchill at -40 degrees centigrade when we pitched our tent this evening and I'm sure at times today it was considerably stronger.
The plateau is certainly making us work for it, and I'm sad to say that neither Tarka or I are feeling much festive spirit at the moment! I can also report that my food-related fantasies today have gone distinctly upmarket, and I've traded Lomito's and their greasy burgers for Adam Byatt's wonderful restaurants in SW London, Trinity and Bistro Union, as well as daydreaming my way through the entire menu at Babington House (a big hello to Rob P. and the gang there if you're reading).
Thanks to you all for following along. I had a brilliant conversation with Robert Swan last night -one of our patrons and the man whose expedition in the mid-eighties sparked my interest in polar travel- on our satellite phone (he was on his bike and had cycled to Captain Scott's statue in London just for the call) and not for the first time felt a sense of near-disbelief that Tarka and I are actually out here doing this. I hope our words and pictures are doing the journey some justice, and I'll answer some more of your questions very soon...