Distance to go: 0 Mi

Distance

Ben and Tarka will cover 1800 miles starting from Scott's Terra Nova Hut at the edge of Antarctica to the South Pole and back to the coast again. That's equivalent to 69 back-to-back marathons hauling up to 200kg each (the weight of roughly two adult men) of kit and supplies necessary to survive.

Distances here are shown in statute miles.
A Very Long Walk (Day 97)
Day 97: S80° 12' 34.67", E168° 34' 30.36"
Duration: 9 Hr 30 Min
Daily distance: 24.2 Mi
Distance to go: 198.5 Mi
Temperature: -12 °C
Wind chill: -17 °C
Altitude: 197 Ft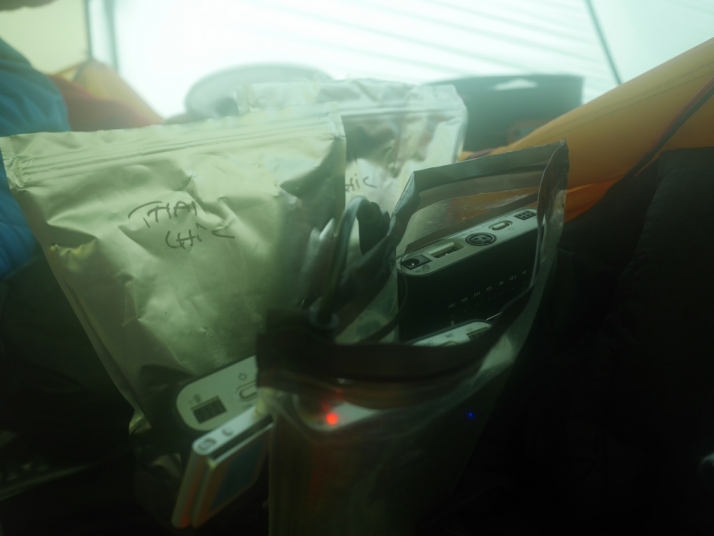 I don't have an awful lot to tell you today, as we spent all of it battling into a full-blown, emulsion-thick whiteout, so we didn't see a single thing. We lost our old tracks within the first half hour, we both have splitting headaches from peering into the gloom as we navigated, unable to focus on anything, and shoulders and necks knotted into spasm from hunching over our compass bracket (that straps around our chests to leave our hands free for ski poles). We managed to clock 39km, which we're pleased with, and which means we're still on track to hit our depots and make it back to Ross Island on schedule.
One thing we are excited about is that Andy informed us on our evening check-in satellite phone call that we appear to have become the longest man-hauling (i.e. human-powered, sledge-dragging) polar expedition in history, by more than 335km.
Lastly, in today's gloomy weather there was nothing that inspired me to take a photograph. "Take one in the tent," said Andy, "People love that. Even a food bag or something." So that's what you've got: a still-life taken from the position of my head. As you can see, it's Thai chicken curry tonight (we peeled off the food bag labels in Chile to save weight) and as I'm not cooking, I'm in charge of overseeing battery charging from the solar panels.