Distance to go: 0 Mi

Distance

Ben and Tarka will cover 1800 miles starting from Scott's Terra Nova Hut at the edge of Antarctica to the South Pole and back to the coast again. That's equivalent to 69 back-to-back marathons hauling up to 200kg each (the weight of roughly two adult men) of kit and supplies necessary to survive.

Distances here are shown in statute miles.
Old Tracks (Day 96)
Day 96: S80° 33' 18", E168° 47' 36"
Duration: 9 Hr 30 Min
Daily distance: 24.8 Mi
Distance to go: 222.7 Mi
Temperature: -14 °C
Wind chill: -17 °C
Altitude: 200 Ft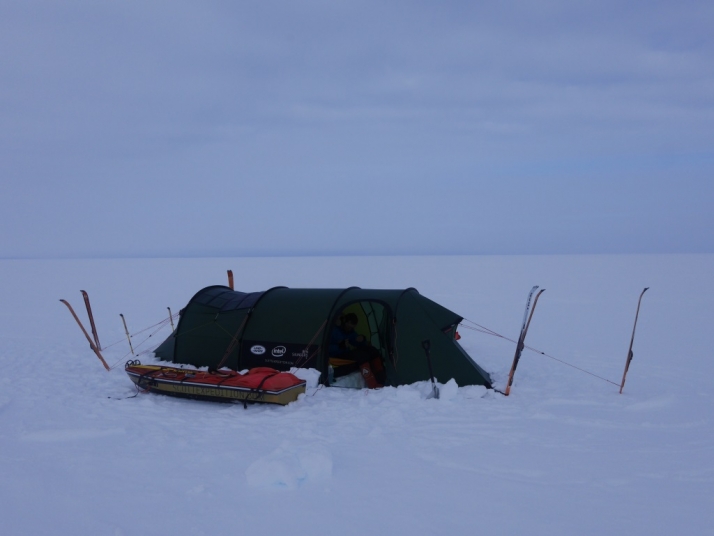 The weather this morning, to our surprise, was corking, with blue skies, hardly any wind and only a few streaks of cloud loitering around. It was colder too, and the the combination of sun and chill seemed to make the surface quite sandy and gritty, which slowed us down a bit. Captain Scott seemed obsessed by surface and glide, and with their wooden and metal sledge runners that apparently needed constant attention and de-icing, I can understand why. Even our carbon and kevlar composite sledges (with runners made of some sort of low-friction plastic) seemed a great deal heavier today, like some gremlin had been filling them with rocks while we slept.
The weather started clouding over towards the end of our today, though we never lost the surface contrast completely and we were amazed to stumble across our two-month-old outbound tracks in the early evening, following them for the last two sessions and camping next to them tonight. They're raised clear of the surface, like railway lines, and while they've been blasted away by the wind or hidden by drift or low patches of sastrugi in places, they're easy to follow and make navigating a piece of cake.
Mentally, today wasn't quite so grim, and I had a few sparks of excitement as I followed Tarka this afternoon, finally allowing myself to start to appreciate that we're actually getting close to completing the journey that Captain Scott perished trying to achieve. While I'm not normally superstitious in any sense, I almost daren't think about finishing this vast trip for fear of jinxing things at the eleventh hour, but something about seeing our old tracks again snapped me out of our goldfish-style routine of only thinking as far ahead as what we're going to eat at the next break.
Speaking of which, I mentioned double rations a while ago. We're still limited to our normal day's rations at the moment, but there's a depot that we're on track pick up on Saturday 1st that's loaded with food so we can push the boat out then for the last few days, which in our current states is a very exciting prospect indeed...