Distance to go: 0 Mi

Distance

Ben and Tarka will cover 1800 miles starting from Scott's Terra Nova Hut at the edge of Antarctica to the South Pole and back to the coast again. That's equivalent to 69 back-to-back marathons hauling up to 200kg each (the weight of roughly two adult men) of kit and supplies necessary to survive.

Distances here are shown in statute miles.
Monotone Monotony (Day 95)
Day 95: S80° 55' 5.16", E168° 48' 7.20"
Duration: 9 Hr 30 Min
Daily distance: 23.6 Mi
Distance to go: 247.5 Mi
Temperature: -6 °C
Wind chill: -9 °C
Altitude: 203 Ft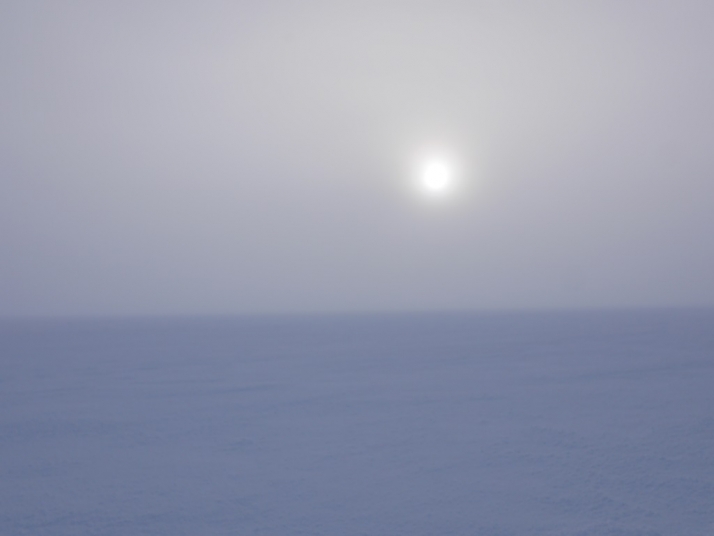 Another day, another whiteout. As we stood up groggily and got ready to start skiing again after our third or fourth break of the day, Tarka said "I'm amazed you're able to keep explaining to people on the blog just how awful this is". "I said it was like staring at a blank grey wall for nine hours", I replied. "I'm not sure they'd really understand", he said, threading his mittened hands into the wrist loops of his ski poles, "After all, how many people have done anything for nine hours straight?"
The man has a point, and it really is difficult to know how to put into words how mentally challenging this weather is proving for us at the moment. We travelled all day today - nine-and-a-half hours - with no visual reference points at all, just cloud and mist and the occasional faint pale cream disc of the sun, always too feeble to cast a shadow or dispel the freezing fog that clung to our clothing and gear. Tarka even spotted a monochrome rainbow today.
We took the tent down in a hazy mist this morning, we pitched it again in a hazy fog this evening, and in between we did all we could to force our weary bodies to keep trudging forwards to meet our minimum target of 38km today.
We both cracked up with genuine belly laughter at one of the breaks today (which hasn't happened in a while) when we both realised we'd been battling the same thoughts when following each other leading; namely the urge to stop and sit on our sledge to rest, and to shout forward to say that we just needed a little breather.
We both wake up feeling exhausted, we're both hungry around the clock, and we're both unable to hold any loftier trains of thought than fantasising about what we're going to eat when we're finished.
On a cheerier note, we've nailed a load of milestones: we're inside 80 degrees south, we've passed 2,500km total distance, we're into single figures (nine days left) and we're pretty sure we'd have lost sight of the mountains, if we could see anything at all.
We're very grateful for all the support online, and please do keep the messages and comments coming. It's great to hear that the amazing Leo Houlding has been chiming in (Leo - I'm looking forward to catching up over a slap-up dinner when I'm back!), and we were chuffed to get a video message from Mark Twight (though the last shot of the eggs-and-bacon breakfast haunted me for an entire day).
So that's it: a miserable day's slog, and it seems Antarctica is going to make us to suffer like dogs right down to the finish line. Onwards!