Distance to go: 0 Mi

Distance

Ben and Tarka will cover 1800 miles starting from Scott's Terra Nova Hut at the edge of Antarctica to the South Pole and back to the coast again. That's equivalent to 69 back-to-back marathons hauling up to 200kg each (the weight of roughly two adult men) of kit and supplies necessary to survive.

Distances here are shown in statute miles.
Approaching the Gateway (Day 38)
Day 38: S83° 22' 45.012", E170° 45' 42.480"
Duration: 8 Hr 30 Min
Daily distance: 19.4 Mi
Distance to go: 1384.6 Mi
Temperature: -7 °C
Wind chill: -14 °C
Altitude: 112 Ft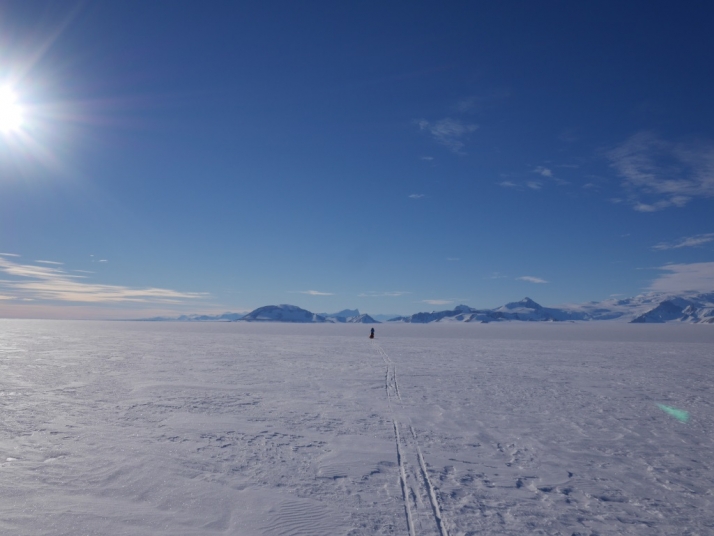 Today was harder than I'd expected it to be. The weather was fine and the surface wasn't too bad, but as we approach the Gateway, there's evidence of some extraordinary forces at work on the ice itself. There are so many vast glaciers coming down from the Transantarctic Mountains - the Beardmore is I think the largest, though I'm not sure - that the surface of the Ross Ice Shelf started to become noticeably undulating yesterday, warping and buckling under the sort of pressure that my brain can't come close to imagining. Ranging from modest hummocks (that reminded me of the miniature Dales and humpbacked bridges of the title sequence of Postman Pat) to rounded peaks and troughs like a deep-frozen mid-Pacific swell, the low points so deep that we'd lose sight of the surrounding peaks. A couple of the deepest had old, mostly filled-in crevasses at their bottoms, though we crossed their thick, ancient-looking snow bridges safely enough.
It occurred to me today that the last living thing Tarka and I saw (other than each other) was a fat seal lying on the ice near Scott Base, more than a month ago. Since then, no animals, no plants, no birds and no insects. We could be on an alien, lifeless planet. It's a strange thing to feel that lack of life, yet also to be aware of so much energy at work around us; the movement imperceptible yet the forces involved so immense that they are reshaping the surface of the planet.
Another almost 20 mile (31km) day today and we're camped just under 9 miles (roughly 14km) from the Gateway, so we'll be on the Beardmore Glacier tomorrow. It's a small band of rather hard men that have passed this way before us, and part of me (probably the seven-year-old part I mentioned yesterday) feels almost like an imposter and can't quite believe that I'm here and taking these steps.
P.S. here's a photo for Mia of the hole I dig in the porch of the tent each night that lets us sit down.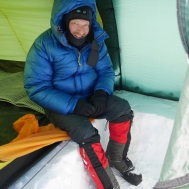 Enlarge