Distance to go: 0 Mi

Distance

Ben and Tarka will cover 1800 miles starting from Scott's Terra Nova Hut at the edge of Antarctica to the South Pole and back to the coast again. That's equivalent to 69 back-to-back marathons hauling up to 200kg each (the weight of roughly two adult men) of kit and supplies necessary to survive.

Distances here are shown in statute miles.
Ascent (Day 46)
Day 46: S85° 11' 36", E161° 35' 16.8"
Duration: 8 Hr 30 Min
Daily distance: 17.4 Mi
Distance to go: 1239.6 Mi
Temperature: -15 °C
Wind chill: -30 °C
Altitude: 7539 Ft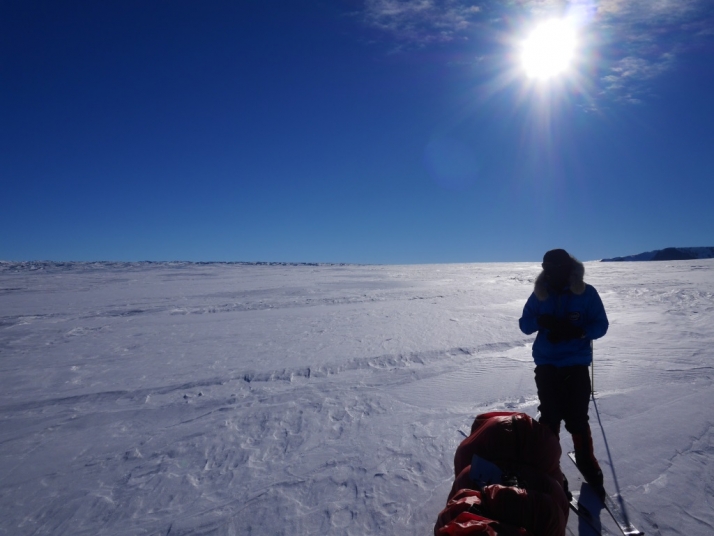 You'll have to excuse a rather brief update today I'm afraid as it's nearly 10pm here in the tent, we're both exhausted, we've only just eaten our dinner and the alarm is set for 6am again tomorrow. Today turned out to be way tougher than we expected. We're off the Beardmore now, but the final ascent (we're now camped at 7,539ft above sea level) was via a series of snow-covered slopes, often steeply ramped, and a succession of false summits.
We clocked 17.4 miles (28km) which we're happy enough with, but the distance was hard-won today, we worked extremely hard and we're both feeling pretty tired.
The reason we're running late this evening is that we're leaving a big depot tomorrow morning before we head off, so we've been sorting through gear to leave here (our crampons, rope and all of our crevasse rescue gear) as well as calculating how much food and fuel to leave here, and how much to take with us. For the expedition/camping enthusiasts, you might be interested to learn that we've used far less fuel than I'd expected. Our allowance is 500ml per day (250ml per person) but we've averaged about 350ml per day so far.
I think some of this efficiency must be down to the cooking pot we're using (a Primus ETA with a modified MSR heat exchanger around it) though I'm also aware we'll use more at this altitude, and in the lower temperatures we're expecting on the plateau, so we're still taking 500ml per day to get from here to the Pole and back, as well as an emergency 2.5 litres in reserve.
Apologies for the lack of deep thought or half-remembered bits of poetry. I think all the blood went to my legs today.
Also, a huge happy birthday to my expedition manager and stalwart right-hand-man through thick and thin, Andy Ward.