Distance to go: 0 Mi

Distance

Ben and Tarka will cover 1800 miles starting from Scott's Terra Nova Hut at the edge of Antarctica to the South Pole and back to the coast again. That's equivalent to 69 back-to-back marathons hauling up to 200kg each (the weight of roughly two adult men) of kit and supplies necessary to survive.

Distances here are shown in statute miles.
Back in the Game
N68° 55' 23.6", W029° 43' 04.8"
Temperature: -12 °C
Altitude: 2177 Ft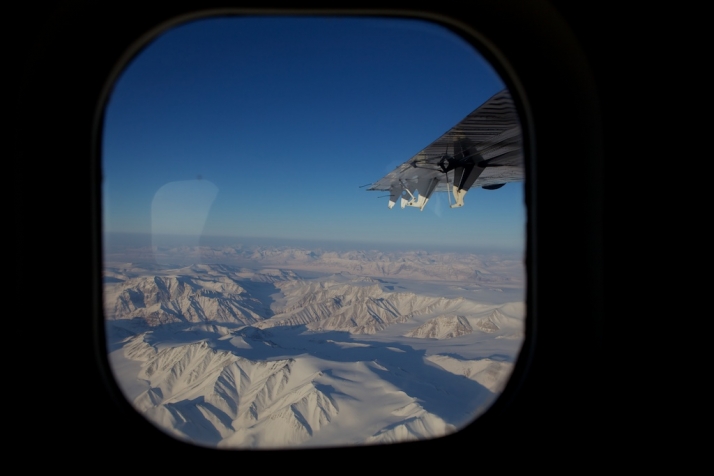 Tarka and I were dropped off late this afternoon, high on a large (and as far as I'm aware, nameless) glacier in the Watkins Mountains that's often used as a basecamp for climbers heading on to Gunnbjorn Fjell, Greenland's highest mountain.
We've got the place to ourselves this evening and aside from a bit too much wind (outside the tent, though no doubt we'll experience both varieties in the fortnight ahead). It was a bittersweet flight in to our current home; the mountains of Greenland's east coast are stunning, and seeing them for an hour from the round window of a slow, low-flying Twin Otter is joyful enough to make all of the fundraising slog of recent months and years pale and fade.
But we flew here with the knowledge that a three-man team were rescued from the icecap not far from here only a few days ago after an ordeal that involved a storm-shredded tent, a heli-rescue and a horror story that I suspect will make it to the press soon. It was a sobering reminder that this is a landscape of consequence as well as beauty, and the scudding, scuttling spindrift seemed oddly sinister as we pitched our tent this evening, the sunset a little less benign.