Distance to go: 0 Mi

Distance

Ben and Tarka will cover 1800 miles starting from Scott's Terra Nova Hut at the edge of Antarctica to the South Pole and back to the coast again. That's equivalent to 69 back-to-back marathons hauling up to 200kg each (the weight of roughly two adult men) of kit and supplies necessary to survive.

Distances here are shown in statute miles.
Back on the ice - GREENLAND 2013
As a school kid the school summer holidays seemed to last forever, but since then I've felt a recurring and increasingly uncanny sensation that time is actually accelerating; that the weeks and months and years are whistling past ever faster, like the view from a train window leaving a station. By the time you've reached the end of the platform, the faces and signs are just blurs and flashes of colour, harder and harder to pick out and recall.
It's almost a year to the day (bar three weeks) since I was last in Greenland, and I'm pinching myself that I'm once again packing my bags to head back there tomorrow for the next stage in preparation for the big trip to Antarctica. Conditions in Greenland are strikingly similar to Antarctica and it gives us the perfect setting to test our equipment and ourselves.
We learnt a great deal in 2012 and since that expedition we've tweaked everything from the protein shakes we drink with our breakfast to how we use solar panels to power our cameras, computers and communications gear. And of course we're now a two-man team rather than three; this will be the first time Tarka and I have been on the ice together, and to a certain degree we need to work out how best to work together as a duo. We'll not only be practicing day-to-day routine - man-hauling, navigating melting snow, and eating, sleeping and living on ice - but also working on specific technical skills like crevasse rescue.
Our flight departs tomorrow morning from London. Next stop Iceland before a brief transfer to our flight to Greenland, and on to the ice. We've got a rather special road-trip lined up from Reykjavik to Akureyri (on the north coast of Iceland) on Sunday thanks to Land Rover. Stay tuned and I'll send you some snaps shortly…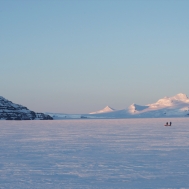 Enlarge