Distance to go: 0 Mi

Distance

Ben and Tarka will cover 1800 miles starting from Scott's Terra Nova Hut at the edge of Antarctica to the South Pole and back to the coast again. That's equivalent to 69 back-to-back marathons hauling up to 200kg each (the weight of roughly two adult men) of kit and supplies necessary to survive.

Distances here are shown in statute miles.
Back in the Game (Day 19)
Day 19: S79° 16' 59.4", E168° 28' 21.06"
Duration: 7 Hr
Daily distance: 9.5 Mi
Distance to go: 1669 Mi
Temperature: -18 °C
Wind chill: -21 °C
Altitude: 184 Ft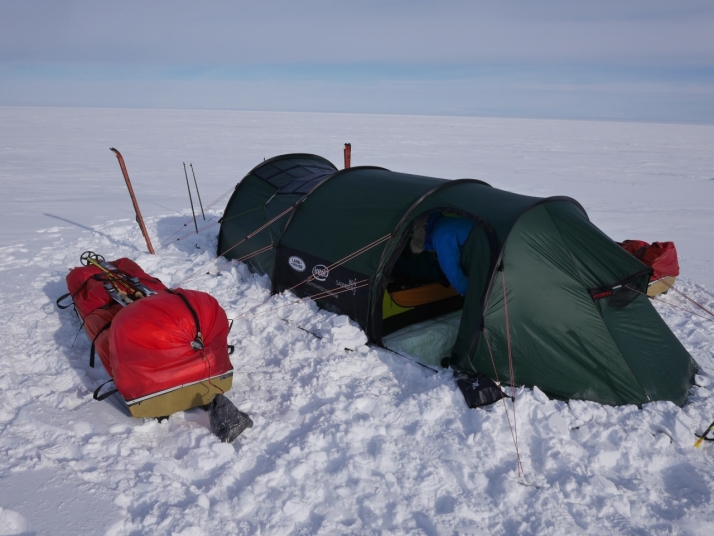 We only covered a few hundred metres more today than we did yesterday, and the surface is still very poor, but we had a bit of sunshine today and for some reason both my spirit and my stamina seemed a great deal higher than they did 24 hours ago. In fact I'd go as far as saying I actually enjoyed at least part of today, and I'm feeling upbeat about the coming weeks.
I'll keep it short now as I'm a) exhausted and b) on cooking duty but here are answers to a couple more questions:
Q) What have you enjoyed most so far?
A) Seeing Scott's Terra Nova hut at Cape Evans was an incredible experience. Other than that, a hot meal and climbing in my sleeping bag each evening are daily highlights!
Q) Do you build a wall around the tent to protect it from the wind?
A) We've done this once so far, but generally our Hilleberg Keron is pretty good in the wind, as long as it's pitched facing into it.
Q) How do you prevent frostbite?
A) Mostly through having good clothing and equipment (thanks Mountain Equipment!) and by being diligent. I avoid having bare hands when I'm outside and use thin fleece gloves for fiddly tasks (tying a knot or using a Leatherman to tighten a screw, for example) and big mittens over the top when we're skiing. I keep my face covered a lot of the time as well, with a mask called a Gorilla. We have big polar boots (Alfa North Pole Extreme Gtx) with Intuition liners and so far they seem great.
Also, a belated thank you to everyone that answered ours about runny noses, and a quick hello to my brother Steven, to Cat, Lottie and Eva, and to his pupils (and indeed all the pupils!) at Aiglon College.