Distance to go: 0 Mi

Distance

Ben and Tarka will cover 1800 miles starting from Scott's Terra Nova Hut at the edge of Antarctica to the South Pole and back to the coast again. That's equivalent to 69 back-to-back marathons hauling up to 200kg each (the weight of roughly two adult men) of kit and supplies necessary to survive.

Distances here are shown in statute miles.
Breezy (Day 20)
Day 20: S79° 23' 57.24", E168° 30' 52.14"
Duration: 6 Hr
Daily distance: 8.1 Mi
Distance to go: 1661 Mi
Temperature: -14 °C
Wind chill: -28 °C
Altitude: 243 Ft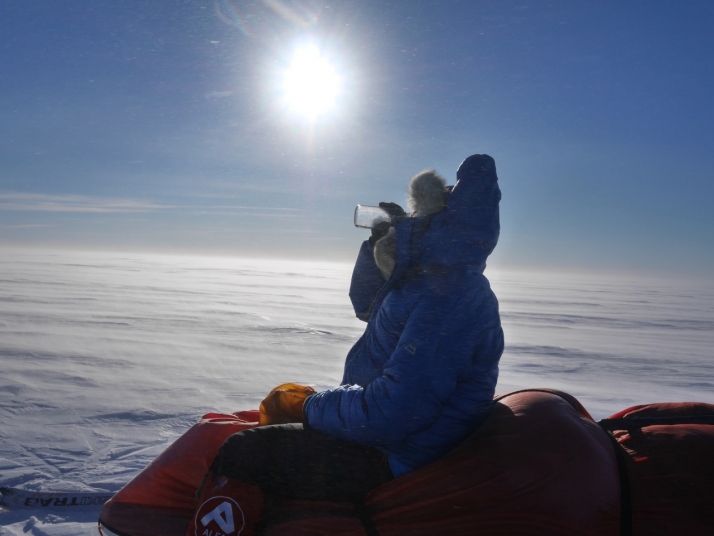 I don't think either of us slept particularly well last night. I certainly didn't, as it got so windy during the middle of the night that it sounded like a helicopter was trying to land on top of us, and we woke up to a gale that was doing its best to take our tent down and blow it out to sea. Tarka rolled over to face me and rolled his eyes from under the hood of his sleeping bag, and I shook my head in response. It didn't sound like we were going to be able to move, so we stayed in bed for another hour to see if it would clear.
The wind was still going bananas when we got up, but we couldn't face a lost day waiting in the tent and decided to do battle with the weather for half a day on half rations. When you have breakfast and dinner tomorrow, be thankful that you're not sharing your bowl or plate with a hungry teammate, counting spoonfuls and eyeing each other's spoonfuls with a blend of suspicion and envy. It's no fun. Our flasks of energy drink during the day tasted watered-down to near-homoeopathic levels.
Luckily the ambient air temperature was quite high (-14 degrees centigrade) so even with the wind blowing so hard that you could lean against it, like a lamppost or a tree, the windchill hovered just above -30, and we were able to make relatively good progress.
We bashed out six belly-rumbling hours in the end, before wrestling to pitch our madly flapping tent again this evening.
A few questions:
Q) How do you change clothes when you are so cold?
A) Not very often is the answer. Tarka and I have been in the same thermal underwear for 20 days now, though we'll treat ourselves to a new set soon (and we'll do that in the comfort of our sleeping bags). Socks we change every night, rotating and drying them so our feet stay relatively healthy, and we sometimes have to add or remove a layer of insulation during the day, which can be refreshing it it's windy. We also have quilted Primaloft vests or gilets (Mountain Equipment Compressor vests) that we wear over our windproof outer jackets and they're proving really handy when it comes to regulating our temperature.
Q) Why has Scott's journey not been done before? A) Crikey, I could write pages on this, but in short I suspect because it's a very long, very hard walk in a very cold place where nothing lives, which is also logistically rather complex to organise (Antarctica is the same size as China and India put together).