Distance to go: 0 Mi

Distance

Ben and Tarka will cover 1800 miles starting from Scott's Terra Nova Hut at the edge of Antarctica to the South Pole and back to the coast again. That's equivalent to 69 back-to-back marathons hauling up to 200kg each (the weight of roughly two adult men) of kit and supplies necessary to survive.

Distances here are shown in statute miles.
Three Weeks (Day 21)
Day 21: S79° 33' 13.38", E168° 33' 19.02"
Duration: 8 Hr
Daily distance: 10.7 Mi
Distance to go: 1650.3 Mi
Temperature: -17 °C
Wind chill: -27 °C
Altitude: 203 Ft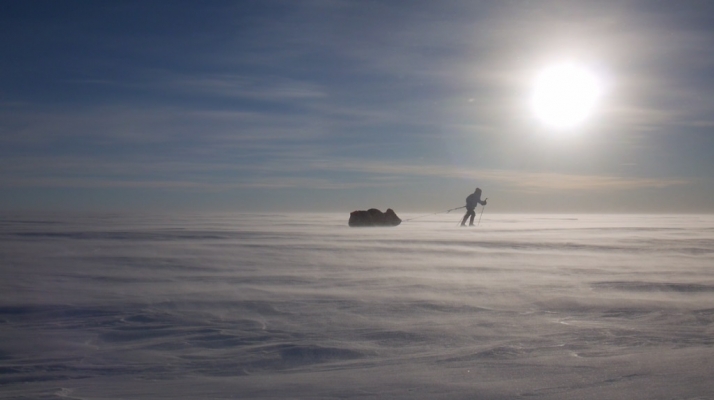 Today was our 21st day of skiing, and things are much the same down here at the bottom of the world: fairly cold, very windy, and the surface is still like quicksand mixed with treacle. We decided to up our quota of skiing time today to try to make semi-respectable progress over it, and did eight hours (seven "sessions", the first of 60 minutes and the next six of 70 minutes, with a ten-minute break in between each).
We still have 170kg or so (374lb) each in tow, so as you can probably imagine, it wasn't the easiest day out, but 17.2km was the score, which we're happy with.
Today was also my most successful day yet when it comes to what Sir Ranulph Fiennes called "mind travel", or escaping from the reality of being stuck in a sledge harness and straining away into a headwind through the medium of daydream. I suspect many of my old teachers would say that I'm uniquely gifted and qualified in this department, and they'll be glad to know that my years of staring blankly out of the window or dreaming of spaceships and distant planets while they chalked equations up on the blackboard have been put to good use.
Today was memory rather than fantasy, and I pieced together everything from walking from Oxford Circus to Knightsbridge via Mayfair to long walks in the Brecon Beacons with my dog, Molly.
We're both pretty tired and sore, but so far we're holding up well physically.
It's my turn cooking tonight so I'll get back to answering questions when I have more time soon. For now, I wanted to say hello and a huge thank you to Gillie Clarke for her tireless help. We wouldn't be here without you, Gillie.