Distance to go: 0 Mi

Distance

Ben and Tarka will cover 1800 miles starting from Scott's Terra Nova Hut at the edge of Antarctica to the South Pole and back to the coast again. That's equivalent to 69 back-to-back marathons hauling up to 200kg each (the weight of roughly two adult men) of kit and supplies necessary to survive.

Distances here are shown in statute miles.
Face Storm (Day 22)
Day 22: S79° 42' 37.14", E168° 35' 27.42"
Duration: 8 Hr
Daily distance: 10.8 Mi
Distance to go: 1639.4 Mi
Temperature: -13 °C
Wind chill: -27 °C
Altitude: 223 Ft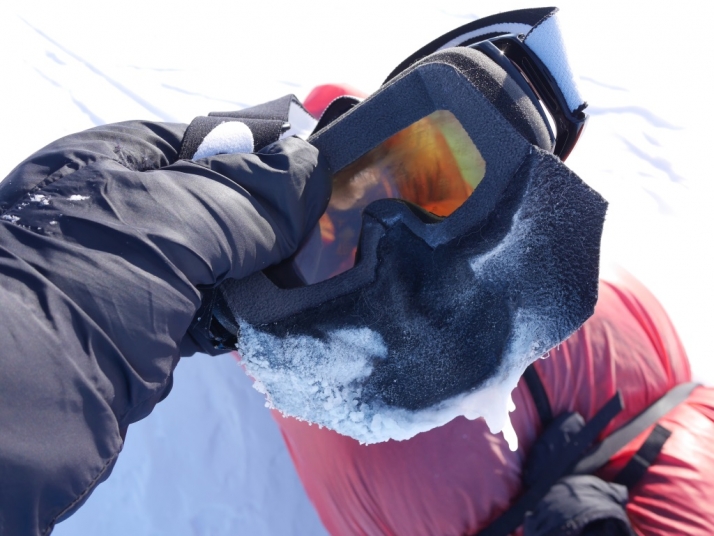 Tarka looked across at me as we sat on our sleds at our second break of the day, eating and drinking. "You know, I've given up hoping for a better surface. If it was going to change, it would have done by now. I'm resigned to the fact that we're going to have to slog it out, but I could really do without this constant headwind face storm."
A face storm was as good a way as any of describing the weather we've had for a few days now; the bullying wind and the never-ending streamers of spindrift. When we're on the move, the only way we can look forward is with goggles and masks, our faces entirely covered. When we stop for food and drink every 70 minutes, we turn our sleds so we can sit with our backs to the wind and remove our goggles and ice-crusted masks, but we usually end up with whirling eddies and vortices of wind around us, blowing a powdery layer of ice crystals into our laps and flicking spindrift into our eyes.
I think we must now be four or five miles south of Scott's final camp, so would have passed its position (or at least its latitude) around midday today. We're now at 79'42 and his famous One Ton Depot was laid at 79'29, with Scott ending his last march 11 miles short of the depot. There's nothing here to mark either point, and the bleak white landscape stretches to the horizon in every direction.
Speaking of depots, we'll get back to answering some questions tomorrow. Watch this space...