Distance to go: 0 Mi

Distance

Ben and Tarka will cover 1800 miles starting from Scott's Terra Nova Hut at the edge of Antarctica to the South Pole and back to the coast again. That's equivalent to 69 back-to-back marathons hauling up to 200kg each (the weight of roughly two adult men) of kit and supplies necessary to survive.

Distances here are shown in statute miles.
Back on the Beardmore (Day 82)
Day 82: S84° 56' 52.08", E164° 41' 6.72"
Duration: 9 Hr 30 Min
Daily distance: 23.5 Mi
Distance to go: 538.7 Mi
Temperature: -9 °C
Wind chill: -21 °C
Altitude: 5558 Ft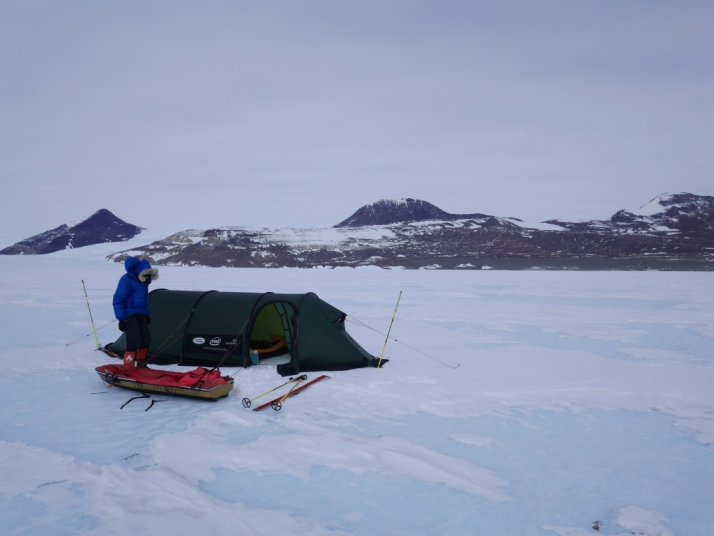 Today ranks among our hardest yet on this expedition, but we finished it with a real sense of accomplishment, if a little worse for wear. Tarka said this evening as we wearily pitched our tent on a tiny patch of snow in hundreds of acres of blue ice that he'd never felt this beaten-up in two years of playing professional rugby.
We're on the glacier proper now, north of Buckley Island, which as you can see in the photo, we're parked just in front of.
We've descended about 600 vertical metres since our last camp, and much of that descent was on a heavily-crevassed snowfield to the south of Buckley Island and on a steep blue ice slope to its east. We'd privately decided that these two sections would be perhaps the most challenging we'd face on the glacier (though I never blogged about that for fear of alarming our mothers) so it was good to get them out of the way with relatively little drama, though we've both fallen over a few times today and we're nursing a few bruises.
We were on crampons for about half the day, which was a peculiar feeling after so many weeks sliding along on skis, and on the steep sections we fastened the sledges together in tandem, with one person in front leading (the easy job) and one person at the back, steering and braking the whole shebang (not so easy).
If we carry on at this pace, we should be at the bottom in four days, which is an exciting thought, as it feels like we'll be home and dry once we're back on the flat, low-altitude Ross Ice Shelf and zipping between depots back to our finish line at the shore of Ross Island.
Andy sent us a few questions, which I'll answer tomorrow, but one that made me giggle was whether we boiled our socks to wash them. The answer is a definite no; we only have one pot and that's kept pristine for snow melting. The thought of putting either of our pairs of socks in there (normally worn non-stop for about three weeks until we swap them for a fresh pair) is, even our current squalid state, too much to entertain.
More soon, and thank you for following along.