Distance to go: 0 Mi

Distance

Ben and Tarka will cover 1800 miles starting from Scott's Terra Nova Hut at the edge of Antarctica to the South Pole and back to the coast again. That's equivalent to 69 back-to-back marathons hauling up to 200kg each (the weight of roughly two adult men) of kit and supplies necessary to survive.

Distances here are shown in statute miles.
Going Down (Day 83)
Day 83: S84° 41' 1.07", E167° 0' 16.2"
Duration: 9 Hr
Daily distance: 23.3 Mi
Distance to go: 515.4 Mi
Temperature: -6 °C
Wind chill: -11 °C
Altitude: 4849 Ft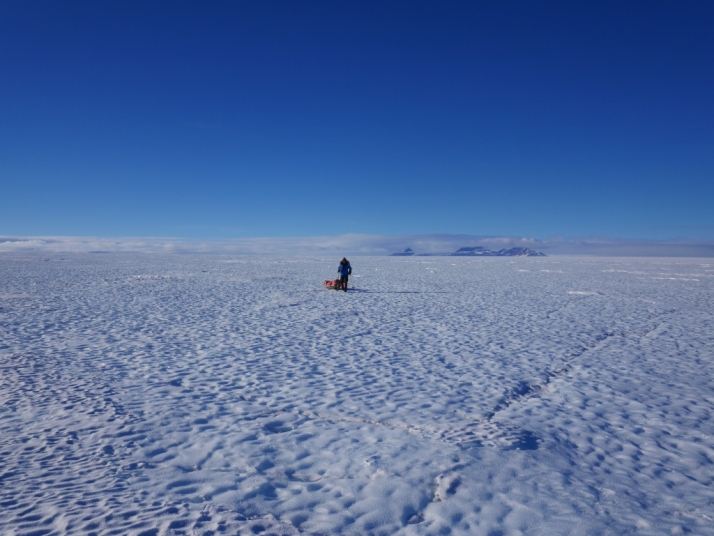 A tough day on the glacier again, and one that I finished rather closer to exhaustion than I would have preferred, as I felt very slow and wobbly for the last thirty minutes. Thankfully it's been tropical weather compared to the plateau, so it's nowhere near as dangerous to dig so deep down here at half the altitude, and we're on blue ice that's essentially crevasse-free and as safe as it gets on the Beardmore.
Interestingly, the surface isn't the polished blue that we crossed on the way up, but now has a uniform layer of frozen snow on it, as you might be able to see in the photo. This means a bit more friction for our sledges, though having the brakes on a touch isn't necessarily a bad thing on the downhill bits.
We were roasting in the tent last night as the sun blazed through its two layers of fabric, and Tarka slept on top of his sleeping bag for the entire night, while I sweltered in mine, unzipped as far as it would go. The weather was glorious as we set off today, almost wind-free and I suspect warmer and sunnier than most of the United States at the moment, but an ominous bank of low grey mist hovered up the glacier to meet us during our second hour, and we found ourselves travelling through a peculiar freezing fog that coated us and our gear with frost and prevented us seeing more than a few metres in any direction. We had to pick our way pretty deliberately and slowly before the fog lifted after about three hours, and while we only had a couple of hours of blue sky before the cloud came back again this afternoon, it's been warm all day.
A few people have pointed out my erroneous claim in yesterday's update that we were the first to descend the Beardmore in more than a century and of course in my addled state I'd totally forgotten that Fiennes and Stroud came this way in the mid-nineties (with nothing more than jury-rigged rope crampons, if my memory of the book is sound!) and also Messner (and possibly Arved Fuchs?). In my defense, I've been so drained that I'm starting to wonder if, now there's hardly any fat left, my leg muscles are in fact starting to burn brain cells as fuel...
A couple of questions:
Q) Chris asks why there are only two of us and not more or less. A) I don't think ALE (our logistics providers, and the people responsible for extricating us if we get into trouble) would let anyone travel this route solo, though I may be proved wrong someday. Personally, despite spending many weeks alone on the Arctic Ocean, I wouldn't have felt at all safe negotiating the Beardmore solo. As for more than two, I considered a three originally, but it didn't work out, and in a way I'm relieved as historically a few trios have fallen apart, becoming two versus one in some situations. Any more than three and you need two tents, so there's a definite division, and the more team members, the more chances of injury or equipment failure. Lastly, of course, you can only move at the pace of the slowest person. Being a two-man team has worked out brilliantly for us so far.
Q) Intrepid asks how the runner repair (to my sledge) is holding up. A) Thankfully, it's rock solid. We'd tried to glue it together a couple of times on the plateau but it kept coming unstuck, so this time we filed down both surfaces with our big EOD Leatherman, and left the back of the sledge in the relative warmth of the porch of our tent to cure overnight. The acid test was descending past Buckley Island yesterday afternoon, and so far it's still in one piece.