Distance to go: 0 Mi

Distance

Ben and Tarka will cover 1800 miles starting from Scott's Terra Nova Hut at the edge of Antarctica to the South Pole and back to the coast again. That's equivalent to 69 back-to-back marathons hauling up to 200kg each (the weight of roughly two adult men) of kit and supplies necessary to survive.

Distances here are shown in statute miles.
Back on the Ross Ice Shelf & A Message from Prince Harry (Day 88)
Day 88: S83° 22' 32.99", E170° 47' 23.64"
Duration: 9 Hr
Daily distance: 23.5 Mi
Distance to go: 418.6 Mi
Temperature: -4 °C
Wind chill: -9 °C
Altitude: 118 Ft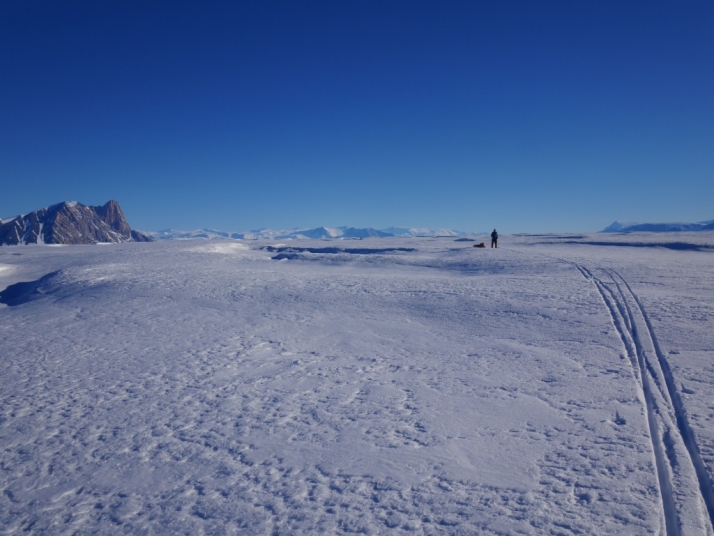 I must have jinxed things by saying to my mum on the satellite phone last night that we were "Home and dry", as we found ourselves skiing through the most treacherous crevasse field of the entire glacier this morning, just a few kilometres from the foot of the Gateway. The slots and holes were real monsters, and covered with thin, fresh snow bridges; when we skied through on our way up to the plateau they were easy to spot and steer round, but now we were travelling blind.
We both went through several times, with Tarka getting the prize for most frightening fall, going in chest deep, skis and all, and getting wedged by his outstretched arms. As I turned to respond to his shouts, my own ski went through another hole and the snow opened up underneath me to reveal a crevasse a couple of stories deep. It was a hairy hour or so, but we made it through in one piece, and to our mothers' relief we're now camped very safely indeed on the lovely flat, calm, 100% crevasse-free Ross Ice Shelf.
It feels like we're on the home straight now, though of course we still have a hell of a way to go, and we're both very drained from hauling sledges almost continuously for a quarter of a year. I have to sign off now as it's getting late but one more thing to share with you. We've recieved a message from His Royal Highness Prince Harry. It made our day here in Antarctica. I hope he won't mind me quoting it below and I'm deeply honoured that he's among the people following our journey (and secretly hope he's been leaving comments under a pseudonym...) "One hundred and two years ago today Captain Scott reached the South Pole. As his expedition tragically demonstrated, such a trek sits at the very limit of human endeavour. You're well on your way to completing what Scott attempted; I wish you both the very best of luck for the rest of your journey. You guys will be an inspiration to the next generation as Scott has been to this."
Thank you all for following, especially to those who've left comments... Keep 'em coming!