Distance to go: 0 Mi

Distance

Ben and Tarka will cover 1800 miles starting from Scott's Terra Nova Hut at the edge of Antarctica to the South Pole and back to the coast again. That's equivalent to 69 back-to-back marathons hauling up to 200kg each (the weight of roughly two adult men) of kit and supplies necessary to survive.

Distances here are shown in statute miles.
Pea Souper (Day 89)
Day 89: S83° 2' 42.43", E170° 3' 55.44"
Duration: 9 Hr 30 Min
Daily distance: 23.6 Mi
Distance to go: 395 Mi
Temperature: 1 °C
Wind chill: -4 °C
Altitude: 223 Ft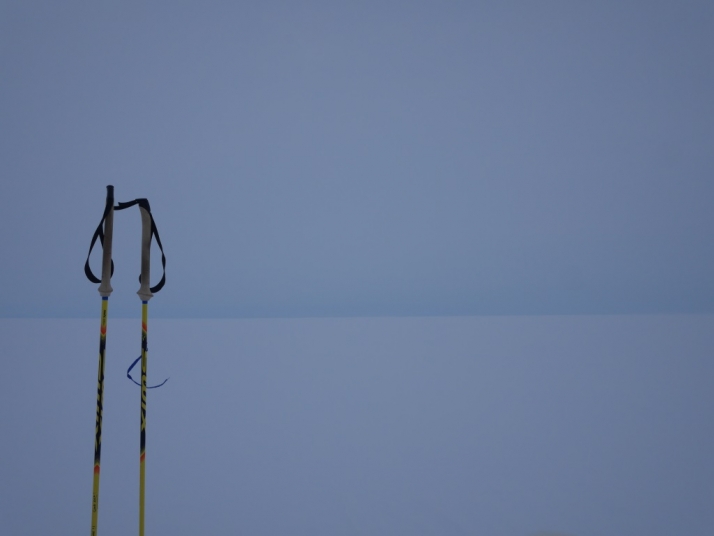 Despite being down on safe terrain now, Antarctica, as it always seems to, ensured that today had its own special forms of challenge and struggle in store for us. It felt tropically hot this morning in the tent, and a bit like a mild January morning in Wales or Scotland when we ventured outside; the temperature was above freezing and the sky was completely overcast. The surface was fine, but we spent all day travelling under a uniform grey blanket of cloud that obscured our view of the mountains to our south and west, and meant that we were skiing towards a horizon that was little more than a fuzzy grey line, with no reference points to mark our progress or take bearings on.
We headed homewards blindly, skiing on a bearing taken from a compass mounted on a dinky chest harness we have for days like this one, and leading was tortuously hard on the mind. In essence it was like spending nine and a half hours on a treadmill, staring at a grey wall with a slightly darker horizontal line running across it.
Thankfully, after a music and headphone-free few days on the Beardmore (for safety reasons in the crevassed areas) we could plug into our tunes again today, which helped us from losing the plot completely, though we both have an odd form of motion sickness lying in the tent this now.
It's bed time here now, and we have our fingers crossed for better (or indeed any) visibility tomorrow. I've attached a photo of the view today as I sat on my sledge at a break, and as you can probably surmise, we'd both relish the chance to see in our 90th day out here with a little more visual stimulation...