Distance to go: 0 Mi

Distance

Ben and Tarka will cover 1800 miles starting from Scott's Terra Nova Hut at the edge of Antarctica to the South Pole and back to the coast again. That's equivalent to 69 back-to-back marathons hauling up to 200kg each (the weight of roughly two adult men) of kit and supplies necessary to survive.

Distances here are shown in statute miles.
Day One Hundred, the Man Hug and the Rocky Punch (Day 100)
Day 100: S79° 10' 17.65", E168° 34' 32.88"
Duration: 10 Hr 30 Min
Daily distance: 23.6 Mi
Distance to go: 111.3 Mi
Temperature: -12 °C
Wind chill: -18 °C
Altitude: 118 Ft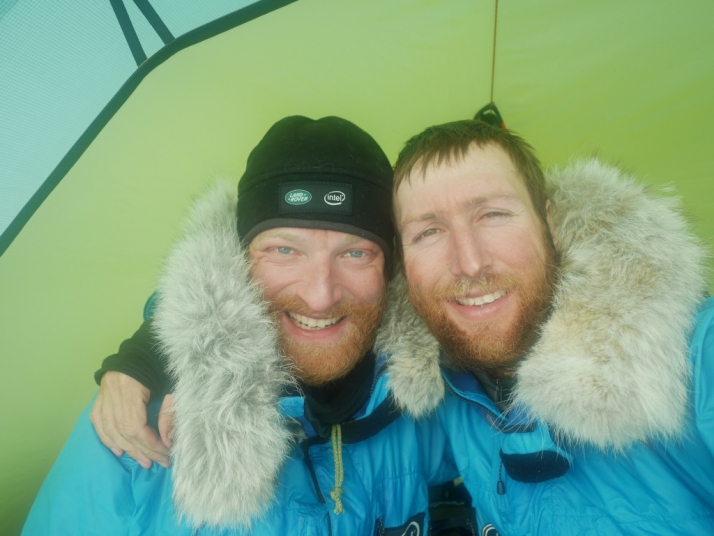 Apologies for what will be a quick one again; I'm cooking (and cooking more than usual as we picked up the first depot with extra grub in it today) and we ended up skiing for ten-and-a-half hours as the conditions were so lousy, which meant about thirteen hours outside on our feet, and not getting inside the tent and taking our boots off until 9pm.
The sun shone for the first hour or so (and we had a cracking view of Minna Bluff to our north west, or to the front and left hand side as we ski towards Ross Island) before a giant blanket of cloud descended with tedious predictability, giving us every combination today from fog so thick we almost lost sight of each other a few metres apart, to a merely irritating flat light that made navigating hard. The surface was hopeless as well; really sticky with lots of lumps and ridges and mini-sastrugi, and it's been snowing most of the day which doesn't help matters either.
Despite all of that, our mojo was much improved today, principally as we're no longer starving hungry thanks to the bonus ration bag we can split over the next two days, giving us an extra 3,000 or so calories per day. I've gone for the Winnie the Pooh approach with mine (if I eat it all now there'll be less to drag tomorrow) but managed to save a few bars and the main meal so it'll be double dinner night tomorrow evening.
I've also been meaning to write about two other important techniques we've used to keep going. When Tarka was mid-way through a particularly epic expedition on the southern Patagonian icecap with his wife Katie (so epic that their tent was eventually shredded in a storm) he turned round during a blizzard to see her performing miniature shadow-boxing moves with her mittens on. "I'm pretending I'm Rocky. He would get through this", she shouted into the wind, by way of explanation.
The man hug is something the English rarely perform well or with any degree of comfort, except perhaps muddied, bloodied and battered after a good game of rugby, but it's something we're doing more and more out here, as a way of reaffirming our solidarity and defiance in the face of Antarctica's daily attempts to make our lives as challenging as possible. It's looking like four days left in the sledge harnesses as I type this, so the end is very much in sight now...