Distance to go: 0 Mi

Distance

Ben and Tarka will cover 1800 miles starting from Scott's Terra Nova Hut at the edge of Antarctica to the South Pole and back to the coast again. That's equivalent to 69 back-to-back marathons hauling up to 200kg each (the weight of roughly two adult men) of kit and supplies necessary to survive.

Distances here are shown in statute miles.
Full Gas (Day 57)
Day 57: S88° 04' 12.24", E159° 20' 17.22"
Duration: 9 Hr
Daily distance: 22.2 Mi
Distance to go: 1036.4 Mi
Temperature: -24 °C
Wind chill: -34 °C
Altitude: 10171 Ft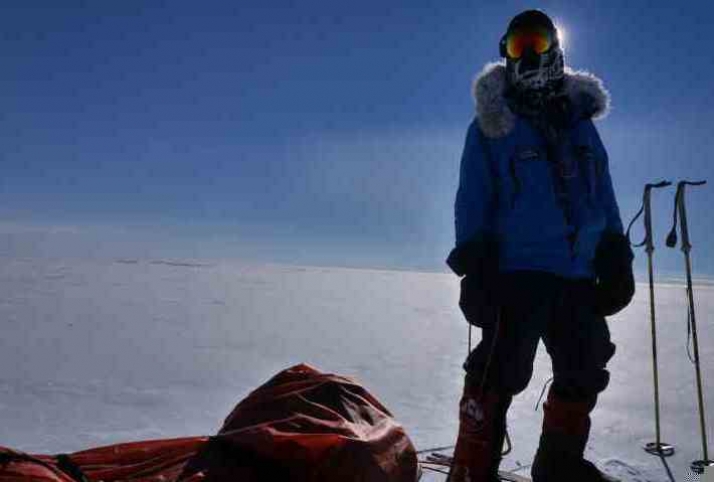 Right. Enough navel-gazing talk about kindness and wobbles and self-pity, today was all about stepping into our ski bindings, going deep and seeing what we could come up with. The weather was kinder to us, with sunshine, sparse, high cloud, good visibility and a milder headwind, and in nine hours on the move we covered 35.72km (22.19 miles or 19.28 nautical miles) which is a record for us, and personally I'm over the moon after struggling like I did yesterday. It's hard, hard work, and I finished each session (90, 90, 90, 80, 70, 70 and 50 minutes respectively) feeling hungry and drained, but after 10 or 15 minutes sat on the sled eating, drinking and resting, I felt just about ready to go again.
We left our final depot this morning, so lighter sleds was one of the reasons for our turn of speed, and we've gone as far as leaving the Pilot (our satellite transmitter - it's nearly 8kg including cables and batteries) behind, where we'll pick it up again in ten days' time or so. In the meantime, we're sending updates back using the Ultrabook and our Iridium Extreme satellite phone, which is rather slower so I'm afraid the images will be heavily compressed until we reach the depot again.
We're utterly indebted to Tony Haile, who provided impromptu tech support on the satphone last night, and managed to email us the correct Windows 8 drivers in order to get the phone working. I'm still pinching myself at what we're able to do out here in the middle of nowhere thanks to Iridium's satellites and Intel's technology. I wonder what Scott would have made of it all.
I wanted to send a nod of gratitude and respect in Mark Twight's direction. I read his book, Extreme Alpinism, about a decade ago, and it influenced me -and the way I wanted to carry out polar expeditions- greatly. As an alpinist, Mark's focus on training, preparation, equipment, professionalism, commitment, style and ambition led to some groundbreaking achievements in the mountains, and while I can hardly call myself a climber, I realised that this was how I wanted to do things in the polar regions. Days like today are the fruit of the work inspired me to put in over many years, and I'm now lucky enough to call him a friend, as well as a man I respect and admire greatly, as a mountaineer, an athlete, a writer and a coach. Thanks Mark. That's all for now; it's bed time here on the Antarctic plateau as we're going to try to do the same distance again tomorrow. Thanks for following.