Distance to go: 0 Mi

Distance

Ben and Tarka will cover 1800 miles starting from Scott's Terra Nova Hut at the edge of Antarctica to the South Pole and back to the coast again. That's equivalent to 69 back-to-back marathons hauling up to 200kg each (the weight of roughly two adult men) of kit and supplies necessary to survive.

Distances here are shown in statute miles.
Whiteout, Granola and a Turning Point (Day 56)
Day 56: S87° 44' 56.87", E159° 21' 30.60"
Duration: 8 Hr 30 Min
Daily distance: 18.2 Mi
Distance to go: 1059.8 Mi
Temperature: -24 °C
Wind chill: -38 °C
Altitude: 10062 Ft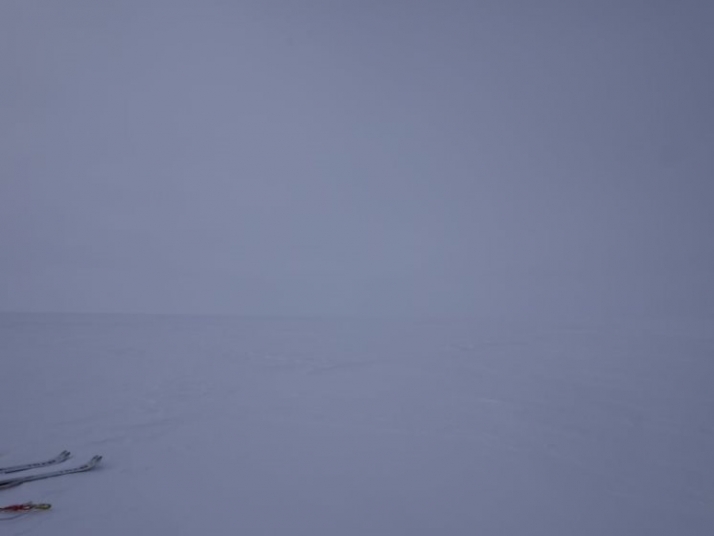 Sorry for the lack of an update yesterday. We overslept by 20 minutes, then the surface was terrible all day and we decided to test both of us pulling one sled vs. each pulling individual sleds (we're leaving our last depot tomorrow morning and were considering leaving one sled). The process entailed unpacking and repacking the sleds several times, which added a couple of hours to our day and we didn't finish until late in the evening.
We'll also be doing nine or ten hours per day starting tomorrow, so the alarm goes off at 5.30am from now on, which wasn't the nicest start to today. It was a bit nippy as well, and a complete whiteout all day (I've sent back the only photo I managed to get before my camera died in the cold), which made progress frustratingly slow over the sastrugi fields we're starting to find.
I've always disliked whiteouts intensely, and find them oppressive, claustrophobic and disorientating, but as I retreated into my mind to try to pass our eight-and-a-half hours of hauling, I realised that the less there is to see, the more your thoughts turn inwards. Antarctica finds you out pretty quickly, and it doesn't seem at all tolerant of bluster, swagger or pretence, and a whiteout is perhaps the ultimate blank canvas upon which your qualities, values, foibles and frailties are inevitably laid out for inspection.
Tarka was cooking this morning, and of the two foil breakfast bags (they have no labels, so it's pot luck) offered me the granola with pecans in rather than the honey and oat one we have most often. The breakfasts are all delicious -thanks Dorset Cereals!- but the berry, chocolate and nutty varieties are rare treats, and I jumped at the offer, only to feel guilty and selfish for hours that I hadn't given Tarka what I knew was his favourite.
What's more, I felt physically weak and drained all morning, I felt ashamed that I'd blogged about wanting an expensive suit and some handmade shoes, though in my defense when you haven't touched soap or deodorant in two months, and when you wipe your bottom every morning on chunks of snow at minus thirty degrees, your mind does occasionally miss a bit of luxury. I also felt bad to have heard that my girlfriend was upset she hadn't been mentioned in my list of things I missed (I'd mistakenly thought she wanted to be kept out of the public eye and I now wished I'd made it clear that I'd swap a dozen Saville Row suits and swanky restaurant meals for a home-cooked meal with her and the chance to hold hands as we walked my dog) and my thoughts spiralled negatively as I cursed myself along.
I had a real wobble in the early afternoon, lagging behind Tarka and feeling powerless to move at much more than a crawl as we headed south into the gloom. Things came to a head at our last break when, slumped on my sled, I said to Tarka that I was worried we'd gone too fast so far, and that I was exhausted from trying to hold his pace (Tarka's an internationally-ranked competitive ski mountaineer, he's an extremely skilled and experienced skier, and he's a good five or six inches taller than me, so has a giant stride that I can't hope to match).
Thankfully Tarka took my complaining and worrying and grumpiness in that same giant stride, and gave me a perfectly-pitched pep talk -mainly about the state Shackleton was in when he turned around not far from here more than a century ago, and that they made it back despite being infinitely less fit, well-equipped and well-fed than we are- that made me choke up.
As we sat on our sleds, ate our energy bars and downed our hot carbohydrate drinks, I pulled my hood down a little and turned away so he didn't see the tears welling in my eyes. Once again, he's proving the perfect team mate and I went from gazing into the abyss of self-pity to feeling stronger - in heart at least if not in legs - than I have this whole expedition. I suspect today may have been a more profound turning point than when we swing round the South Pole and start heading home in a few day's time, and I was reminded of something Jerry Colonna said to me once, about the fact that at every moment in our lives we always have the choice to be kind, both to others and to ourselves. So there's my Thought for the Day from nearly 88 degrees south: we can always be kind.