Distance to go: 0 Mi

Distance

Ben and Tarka will cover 1800 miles starting from Scott's Terra Nova Hut at the edge of Antarctica to the South Pole and back to the coast again. That's equivalent to 69 back-to-back marathons hauling up to 200kg each (the weight of roughly two adult men) of kit and supplies necessary to survive.

Distances here are shown in statute miles.
Hoolie (Day 12)
Day 12: S78° 38' 57.12", E168° 30' 57.72"
Duration: 6 Hr 30 Min
Daily distance: 8.1 Mi
Distance to go: 1713 Mi
Temperature: -28 °C
Wind chill: -46 °C
Altitude: 141 Ft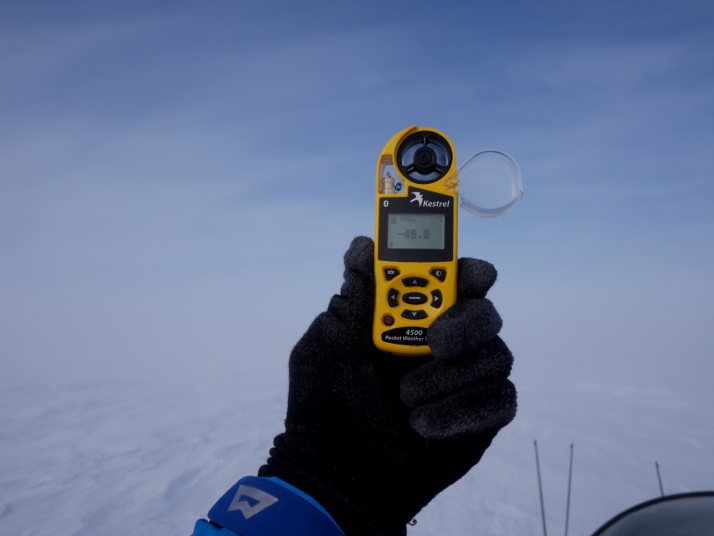 Today looked set to be pretty much the same as yesterday - a bit of sun, pretty cold, lots of sastrugi - except with a mild but irritating headwind, and we trundled along making reasonable progress until our fifth hour of the day, when a grey bank of cloud started rolling towards us, like a slow-motion shockwave from some enormous explosion. The wind started picking up and I noticed ice crystals glinting and sparkling in the air. Twenty minutes later and we were in the middle of our worst weather yet, and we called it a day after skiing into the viciously cold wind for an hour, almost being blown off our feet.
Pitching the tent is an interesting exercise in teamwork and communication in these conditions. We were wearing goggles and facemasks and couldn't hear each other shout over the wind, so the only vocal communication was with an arm around the other person, yelling into the side of their hood. Making sure you don't rip the wildly flapping fabric on the tip of a ski or pole is key, as is keeping hold of it and not letting go. The same goes for sleeping mats, sleeping bags, down jackets, mittens, etc.
It looks set to be a noisy night for us, but our Hilleberg is solidly reassuring once it's up, and my hope is that this front blows through and that we can move tomorrow, as I don't fancy a day of skiing into this.
Here are a few answers to some of your questions...
Q) What's it like at night? Windy?
A) Tonight it's extremely windy (and noisy - rumbling, flapping and hissing) but it really depends on the weather. It's been pretty still most nights until now. It's also bright daylight as we're technically skiing at night, though the sun never sets here at this time of year, so we sleep with eye masks that we picked up on the flight down to Chile. I've sewn a fleece nose-warmer into mine as I like to sleep with my face exposed, whereas Tarka seems to tunnel into the bottom of his bag and disappear entirely. We have earplugs for storms like this too, but then you run the risk of not hearing the alarm in the morning...
Q) How do you and Tarka deal with the monotony? Do you have music? Or audiobooks?
A) In slightly different ways! I ski along listening to music a lot of the time, but Tarka prefers audiobooks. He's listening to Game of Thrones, whereas I find electronic music works best for skiing to, and the worse the conditions the more frenetic it needs to be, so today was drum and bass, mostly from Hospital Records. We can read in the evenings if there's time, and it's wonderful to have a bit of mental escape from the routine and the discomfort (I've just started William Boyd's Restless which is so good). And last up, for the ultimate treat we have a few movies on the Ultrabook, and a headphone splitter so we can watch them in our sleeping bags. We've yet to do that though, as we're usually too busy/exhausted at night.
Q) What item can't you live without?
A) Right now, in a very literal sense, our tent. Without it we'd be in a very difficult predicament indeed!