Distance to go: 0 Mi

Distance

Ben and Tarka will cover 1800 miles starting from Scott's Terra Nova Hut at the edge of Antarctica to the South Pole and back to the coast again. That's equivalent to 69 back-to-back marathons hauling up to 200kg each (the weight of roughly two adult men) of kit and supplies necessary to survive.

Distances here are shown in statute miles.
Looking Up (Day 11)
Day 11: S78° 31' 57.9", E168° 28' 24.72"
Duration: 7 Hr
Daily distance: 10.2 Mi
Distance to go: 1721 Mi
Temperature: -26 °C
Wind chill: -30 °C
Altitude: 289 Ft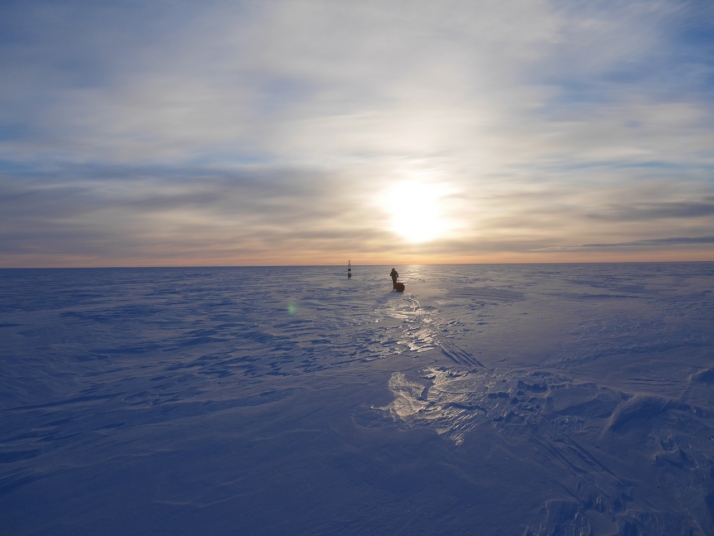 We cranked out 16.4km (10.2miles) today, which we're pretty happy with, and I can tell you that dragging two-and-a-half times your body weight for seven hours is a bit of a workout.
Apologies if we're mixing metric and imperial units on the site - our expedition manager, Andy Ward, is still stuck on the opposite side of Antarctica at Union Glacier, waiting for a flight home, and once he's online back in Chile it'll all be straightened out. Ditto our film maker, Tem, who's also waiting for the same weather window to fly back to civilisation. Once he's back in the land of broadband and wifi he'll be able to edit and upload some of the HD video we've sent back from the tent.
It felt colder than the numbers suggested (-26C ambient, -30C windchill) though thankfully the wind stayed at our backs all day.
The surface today was quite different: hard and wind-scoured, with a lot of sastrugi - wind-blown ridges in the snow - for the latter two thirds of the day. I actually quite enjoyed navigating through these, which reminded me of trying to find the best course over pack ice on the Arctic Ocean.
We spotted something odd-looking on our bearing this morning, alone on the Ice Shelf not far from Minna Bluff. I thought it was a flag at first, or a very lost penguin, but it turned out to be an automatic weather station belonging to the University of Wisconsin. They'll be pleased to hear it was whirring busily away in the wind. More of the same tomorrow, and I promise I'll get back answering questions again...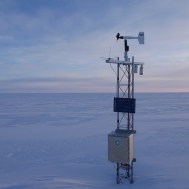 Enlarge