Distance to go: 0 Mi

Distance

Ben and Tarka will cover 1800 miles starting from Scott's Terra Nova Hut at the edge of Antarctica to the South Pole and back to the coast again. That's equivalent to 69 back-to-back marathons hauling up to 200kg each (the weight of roughly two adult men) of kit and supplies necessary to survive.

Distances here are shown in statute miles.
Day Ten, Cold Thumbs (Day 10)
Day 10: S78° 23' 7.92", E168° 25' 47.22"
Duration: 6 Hr
Daily distance: 7.7 Mi
Distance to go: 1731.2 Mi
Temperature: -27 °C
Wind chill: -30 °C
Altitude: 151 Ft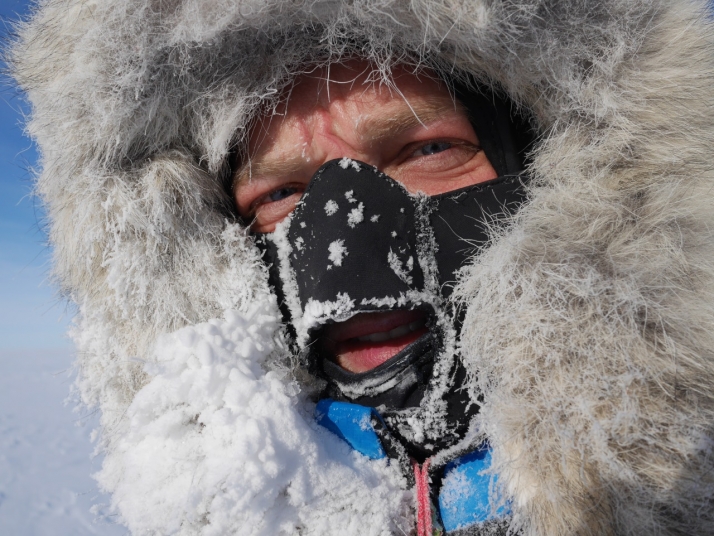 I have a copy of Scott's diaries on the Ultrabook that I type these updates on, and as I read a few pages last night I realised that Tarka and I are hauling slightly heavier loads than each of his weaker ponies dragged ("400lbs") which probably explains why we were so grumpy for the first few days.
Today was calm and bright, though the sun was almost always obscured by high cloud and as a result seemed regrettably stingy with its heat. Tarka and I seemed simultaneously afflicted by thumbs that refused to warm up for most of the day, despite windmilling our arms around at every opportunity, centrifugally forcing warm blood out to our hands.
The wind picked up a little in the afternoon and blew straight into our faces, so we retreated behind our hoods and masks, talking to each other like twin versions of Kenny from South Park.
The view to our right, across to the Society Range of mountains, was stunning.
We had a bit of drama last night as we thought two of our four batteries had conked out. Weirdly they seem to have come back to life now, which is a huge relief, as the Pilot is pretty power-hungry. I'll write more about the technology we have here in the tent, as a lot of it is brand new. No Q&A today I'm afraid as I need to get some sleep!