Distance to go: 0 Mi

Distance

Ben and Tarka will cover 1800 miles starting from Scott's Terra Nova Hut at the edge of Antarctica to the South Pole and back to the coast again. That's equivalent to 69 back-to-back marathons hauling up to 200kg each (the weight of roughly two adult men) of kit and supplies necessary to survive.

Distances here are shown in statute miles.
It's Never Easy (Day 5)
Day 5: S77° 56' 1.44", E168° 04' 20.46"
Duration: 5 Hr
Daily distance: 3.5 Mi
Distance to go: 1763.8 Mi
Temperature: -36 °C
Wind chill: -45 °C
Wind speed: 10 MPH
Altitude: 128 Ft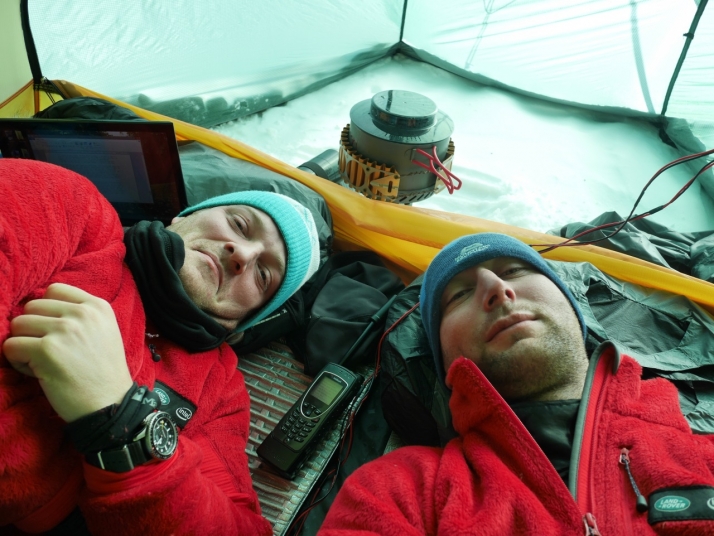 I think Tarka and I may well be the two grumpiest men in Antarctica right now, if not the Southern Hemisphere. Today has been really challenging. We woke up to a very cold morning indeed and just making breakfast involved swapping and fixing a faulty fuel pump in our stove, during which process we both got really cold fingers, and I managed to knock over my bag of rehydrating granola, spilling hot milk and bits of cereal all over my sleeping mat. We sleep on doubled-up Ridgerests, so I was able -on all fours- to slurp up the food from the little valleys in the mat before it froze to my bed.
Once we'd got up and taken the tent down, the conditions were the worst we've had yet. The ambient temperature wasn't far off -40 when we set off, and our fingers, toes and faces all got a battering. Tarka's toes are still painful now.
The surface was hellish, and we struggled to cover much more than a kilometre each hour, despite experimenting with shuttling the sleds - both pulling one, then returning for the second. Whatever we tried, there was no speedy way of making progress, and despite giving our all for the time we were in our harnesses, our distance today feels pitiful.
The weather went bonkers in the afternoon, with a really strong wind picking up from the south (so strong that it was hard to stand up, and that it nearly blew away a snow shovel) and we decided to call it a day early in order to check Tarka's feet, to sort out our kit and to get a decent night's sleep.
We've switched from Chilean time to UTC so we've been strangely jet-lagged since the start.
We had freeze-dried chicken dhansak for dinner, which was one of today's few redeeming factors. We'll see what tomorrow has in store for us (weather-wise at least; I can tell you it's beef stew on the menu).