Distance to go: 0 Mi

Distance

Ben and Tarka will cover 1800 miles starting from Scott's Terra Nova Hut at the edge of Antarctica to the South Pole and back to the coast again. That's equivalent to 69 back-to-back marathons hauling up to 200kg each (the weight of roughly two adult men) of kit and supplies necessary to survive.

Distances here are shown in statute miles.
One Week In (Day 7)
Day 7: S78° 03' 53.58", E168° 25' 11.58"
Duration: 6 Hr
Daily distance: 5.4 Mi
Distance to go: 1753.4 Mi
Temperature: -32 °C
Wind chill: -41 °C
Altitude: 92 Ft
On our seventh day on the ice, things are finally looking up. We had a freezing, miserable morning with a soft, sticky surface that slowed us to a crawl, and a biting windchill that seemed determined to freeze our fingers, toes and faces.
Getting going in the morning is perhaps the hardest part of the day. We take the tent down and pack our sleds wearing big down jackets, removing them just before we start skiing. Then comes a difficult balancing act: setting off fast enough to generate enough heat to thaw our painful digits/noses and generally get our bodies feeling comfortably warm again, yet cautiously enough to avoid straining a stiff, cold tendon or muscle.
The first three hours of today were pretty grim, then we suddenly appeared - in the space of a few feet - to cross a mysterious threshold where the surface became instantly and infinitely better. It was like my sled had snapped in half, and I suddenly found myself standing more upright rather than leaning deep into my harness, and able to ski for 10 or 15 minutes at a time, rather than 10 or 15 paces. It stayed like that for the rest of the day, so we're feeling optimistic.
A few questions we've been sent...
Q) Can you see any remains of early explorer's depots or cairns?
A) Other than Scott's wooden huts at the coast from the Discovery and Terra Nova expeditions, there's no sign they were here. Any cairns (and even Scott's tent and burial site) are buried under a century's worth of snow, and I think would also have drifted out towards the coast (though I'm not entirely sure of the dynamics of the Ross Ice Shelf).
Q) Do you have sails for your sleds?
A) Nope! Scott did, but I don't think they had a great deal of use out of them, and using modern-day traction kites that can cover hundreds of kilometres in a day would have made this a very different sort of expedition - far more about weather, luck and skill than endurance.
Q) What is your daily routine? When do you get up, start walking, etc? What do you do in the tent?
A) I'll write about this soon!
Q) How do you alleviate pain e.g. bruises from your harnesses?
A) We have a pretty comprehensive first aid kit, though other than a bit of tape we've yet to use any of it.
Q) How cold was the plane?
A) Once they had the heating going, it was very warm!
Q) Is Amundsen's flag still at the South Pole?
A) I genuinely have no idea what happened to his flag. Does anyone else know?
Q) Is your stove modified? What fuel does it run on? A) The stove is an unmodified MSR XGK EX, though it's on a custom-made carbon fibre stove board (I've attached a photo) and we use MSR titanium fuel bottles, which they don't make any more. The cooking pot is a Primus ETA with a modified MSR heat exchanger. The stove runs on Coleman fuel (white gas).
Q) What temperature is it in the tent?
A) It varies enormously! We recorded plus 12 degrees centigrade last night(!) but it goes down to at least the -20s while we're asleep.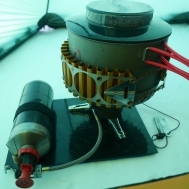 Enlarge