Distance to go: 0 Mi

Distance

Ben and Tarka will cover 1800 miles starting from Scott's Terra Nova Hut at the edge of Antarctica to the South Pole and back to the coast again. That's equivalent to 69 back-to-back marathons hauling up to 200kg each (the weight of roughly two adult men) of kit and supplies necessary to survive.

Distances here are shown in statute miles.
The First Whiteout (Day 8)
Day 8: S78° 9' 57.6", E168° 28' 3.36"
Duration: 6 Hr
Daily distance: 7 Mi
Distance to go: 1746.4 Mi
Temperature: -16 °C
Wind chill: -28 °C
Altitude: 138 Ft
The Antarctic weather is anything but consistent, and after falling asleep to blazing sun last night, we woke to the mildest temperatures yet, but a strong wind and a full-on blizzard with zero visibility. We steered into a whiteout for about three quarters of the day, though when the banks of cloud lifted, the view, replete with fast-moving spindrift snaking round our ankles, was breathtaking.
The surface has stayed kind to us, and today was our second-furthest distance, despite calling it a day after six hours. We're leaving a depot in two days' time, so we should start moving better after that.
I wanted to send a quick hello from Antarctica to Dirk and Kaspar, and to say a huge thank you to James Lindeman and Anthony Goddard for working so hard behind the scenes on this website to keep it all working. And thanks everyone for the low-temperature mirage explanations!
Here are some answers to a few questions we've been sent...
Q) Is it sastrugi in your photos?
A) Quite possibly in some of the earlier photos, though there isn't any around at the moment. I'm sure we'll bump into some before too long...
Q) Do you have a particular affinity with anyone in Scott's team?
A) (Ben) After reading David Crane's brilliant biography, probably Scott himself. (Tarka) No particular affinity, though Birdie Bowers sounded like an incredible man, and pretty nails.
Q) How well do you sleep? For how long?
A) As we're so tired, pretty well! Averaging seven to eight hours at the moment. It's 24-hour daylight and we're actually sleeping during the local daytime, so we have eyemasks. It can actually get uncomfortably warm in the tent at midday.
Q) What watch do you wear?
A) I'm not sure how much I'm allowed to share about this at the moment, but I have a prototype Bremont Supermarine Terra Nova. It's Bremont's first titanium watch, so it's lighter than the regular Supermarine, and it has a third hand that rotates once every 24 hours, that's useful for navigation (it shows New Zealand time on my watch, while the hour and minute hands are on UTC, if that makes any sense). It's a mechanical watch, so no batteries to die in the cold, and it's proved super-reliable so far, even strapped outside my jacket sleeve during the day. I'll send photos soon.
I've also sent a photo of our tent as someone asked for one! It's a Hilleberg Keron 3GT, completely standard, apart from snow valances around the outside.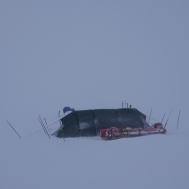 Enlarge