Distance to go: 0 Mi

Distance

Ben and Tarka will cover 1800 miles starting from Scott's Terra Nova Hut at the edge of Antarctica to the South Pole and back to the coast again. That's equivalent to 69 back-to-back marathons hauling up to 200kg each (the weight of roughly two adult men) of kit and supplies necessary to survive.

Distances here are shown in statute miles.
Lift Off
Bags packed, sleds loaded and plane refuelled! Ben and Tarka are now in the air.
Next stop will be Union Glacier then on to Chile.
Providing the weather stays clear they'll be back in Punta Arenas within the next 24-48 hours.
For an idea of the landscape they'll be flying across watch the short video above - taken nearly four months ago as they caught their first glimpse of Antarctica, the vast continent that they've come to know so well.
For plenty more videos from the ice and the wider expedition click here.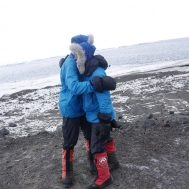 Enlarge