Distance to go: 0 Mi

Distance

Ben and Tarka will cover 1800 miles starting from Scott's Terra Nova Hut at the edge of Antarctica to the South Pole and back to the coast again. That's equivalent to 69 back-to-back marathons hauling up to 200kg each (the weight of roughly two adult men) of kit and supplies necessary to survive.

Distances here are shown in statute miles.
Making Hay While the Wind Blows (Day 67)
Day 67: S88° 38' 49.92", E158° 35' 1.32"
Duration: 10 Hr 30 Min
Daily distance: 23 Mi
Distance to go: 804.9 Mi
Temperature: -24 °C
Wind chill: -35 °C
Altitude: 10138 Ft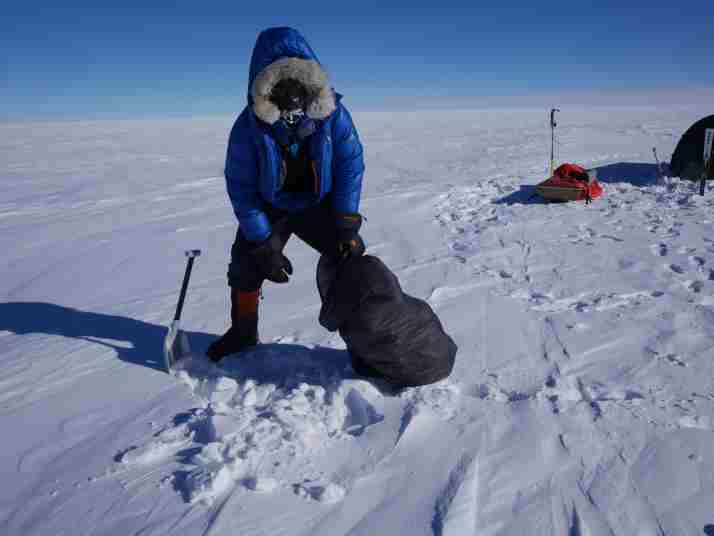 Today didn't have an auspicious start: it was cold in the night and we woke up to a dull light in the tent, which turned out to be an almost complete whiteout outside. It was my turn to have a bit of a sense of humour failure today, as my hands got painfully and worryingly cold as we took the tent down and didn't really warm up properly all morning. The clouds parted after a few hours and the wind died, lulling me into stripping down to just a thermal baselayer and my windproof Mountain Equipment jacket, which was fine until the temperature plummeted an hour later and the wind suddenly revved up.
My only choice was to remove the windproof jacket to add more layers, but this involved a) taking off my big warm mitts and freezing my hands again, and b) stripping down to my underwear -on my top half at least- in windchill well into the minus forties. I gritted my teeth and got changed, but my hands were near-useless as I tried to zip everything up and put my mitts back on again, and Tarka had to come to the rescue. I windmilled my arms furiously, forcing blood painfully back into my fingers but my core temperature wasn't really warm enough to sort everything out so I had to ski flat-out for a few minutes before repeating the arm windmill process again.
I'm happy to report this evening that all digits are still intact, and that the day improved once I'd finally warmed up; the wind was behind us and gave us a welcome shove north, and the surface got better all day, presumably due to the low temperatures. My mood did a complete one-eighty in the afternoon as well, going from hating this place and the self-inflicted pain I was going through to feeling so good that we skied long into the night, stopping to pitch the tent at 9.20pm. It is, therefore, another late night here in the tent, so I'll sign off by wishing you all a very happy new year. At this rate I suspect we'll sleep through it here.
P.S. GPS back up and running but we're still having issues with the tracker, but a solution seems to be in sight. Watch this space...