Distance to go: 0 Mi

Distance

Ben and Tarka will cover 1800 miles starting from Scott's Terra Nova Hut at the edge of Antarctica to the South Pole and back to the coast again. That's equivalent to 69 back-to-back marathons hauling up to 200kg each (the weight of roughly two adult men) of kit and supplies necessary to survive.

Distances here are shown in statute miles.
Milestones (Day 91)
Day 91: S82° 18' 31.2", E169° 27' 27"
Duration: 9 Hr
Daily distance: 24.8 Mi
Distance to go: 344.2 Mi
Temperature: -5 °C
Wind chill: -11 °C
Altitude: 157 Ft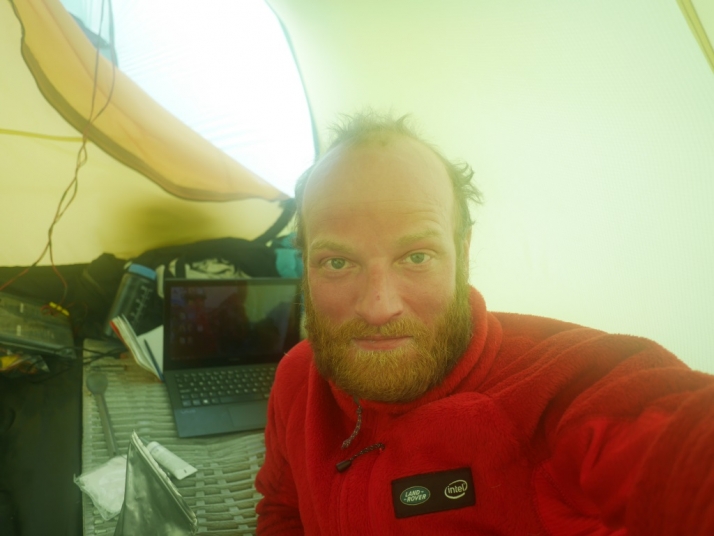 Andy (our expedition manager) emailed us a selection of a couple of dozen recent comments from the blog. We're on such a tight schedule of skiing, blogging, eating and sleeping here (and so zonked) that we don't have time to read them all at the moment, sadly, but I'm a) staggered at the interest and support we're getting, and b) feeling guilty for writing such short posts lately. We're hugely grateful for each and every comment, and I can't wait to read them all when I'm back in the land of wifi, coffee and cake, probably in Punta Arenas, Chile.
Today was, as you can probably guess, another challenging one. The weather was fine this morning but it clouded over in the afternoon and we found ourselves again trudging through a very flat light towards a faint grey horizon that we'd never reach. The hardest bit by far, though, is getting up in the mornings. We're waking up progressively more tired each day and getting out of a cozy sleeping bag to do nine hours of skiing with a sledge in tow is taking every ounce of determination and self-discipline we have.
We're constantly hungry too, and this Winnie the Pooh quote from the recent comments (thanks Sue and Noodle!) sums up our current mindset to a tee: 'When you wake up in the morning,Pooh,' said Piglet at last, 'what's the first thing you say to yourself ?. 'What's for breakfast ? ' said Pooh. 'What do you say, Piglet?' 'I say I wonder what's going to happen exciting to-day?' said Piglet. Pooh nodded thoughtfully. 'It's the same thing,' he said.
Last up, for your amusement, I've sent back a tent 'selfie' featuring my 91-day beard.
And I'll finish by answering a good question from Jim:
Q) Physically, how do you plan to re-adjust after a gruelling experience like this? How different does it feel now that you are in a lower altitude?
A) Tarka and I talk about this a lot, and while we don't have a definite plan, we both think we could sleep for twice as much as we are at the moment (averaging five to six hours per night out here) and we can both reel off vast fantasy food lists of all the things we're going to devour when we get back to civilisation. Perhaps strangely, I'm looking forward to doing some 'normal' exercise again - running, cycling, weight training - as we've become hopelessly imbalanced and weak when it comes to anything except plodding at a moderate speed dragging a sledge. I'm also planning a few weeks of 'rehab' at the hands of Balance Physio in London (and my excellent massage therapist Kellie), with Putney Chiropractic Clinic (and the excellent Dr. Craig) and possibly also throwing in some accupuncture (I've never tried it), a bit of yoga and a few other things. As far as being back at sea level goes (well, 24 metres above it this evening) the difference is phenomenal. We both found ourselves frequently short of breath above 3,000m on the plateau, which obviously isn't an issue down here. It's a great deal warmer too, and we've gone from windchill in the minus 30s and 40s to ambient temperatures barely below freezing and windchill that's rarely in double figures, so life is far more pleasant and we no longer have to prise our frozen face masks away from our iced-up beards before getting into our sleeping bags in the evening...