Distance to go: 0 Mi

Distance

Ben and Tarka will cover 1800 miles starting from Scott's Terra Nova Hut at the edge of Antarctica to the South Pole and back to the coast again. That's equivalent to 69 back-to-back marathons hauling up to 200kg each (the weight of roughly two adult men) of kit and supplies necessary to survive.

Distances here are shown in statute miles.
Into the Mist (Day 92)
Day 92: S81° 57' 56.34", E169° 13' 30.60"
Duration: 9 Hr 30 Min
Daily distance: 24.2 Mi
Distance to go: 320 Mi
Temperature: -4 °C
Wind chill: -7 °C
Altitude: 72 Ft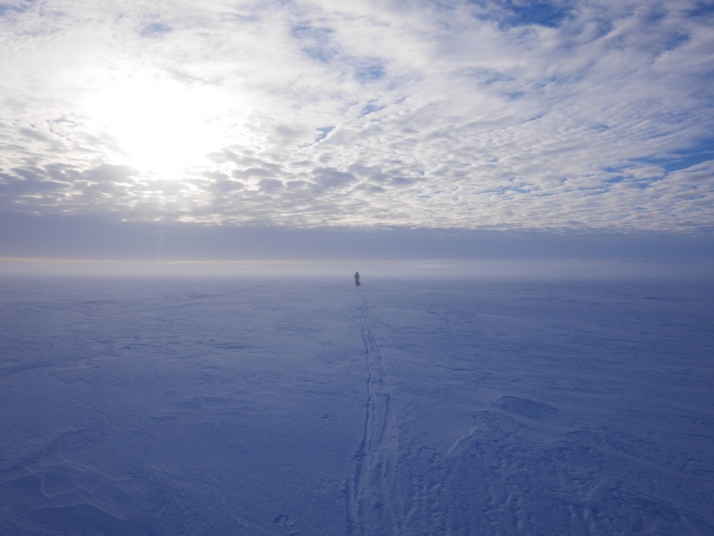 Not a great deal to report from this end of the planet: another day slogging into a full-blown, zero-visibility whiteout, trying our best to stave off hunger, drowsiness so bad that we both staggered like drunks at times, and perhaps imminent mental breakdown from staring at an infinite foggy white blankness for nearly ten hours (and in my case with drum and bass being transmitted at point-blank range into my eardrums for most of that period).
It was pretty grim, and Tarka and I both vented our frustration by coming up with choice replies to the many well-meaning messages we've had reminding us to "Look up at the horizon" and "Don't forget to enjoy it!" As you can see, looking back behind us yielded better views, in this case of Tarka following my tracks with the mountains behind him. And speaking of views, my self-portrait yesterday triggered a flood of not-so-flattering messages to our satphone, so I dread to think what the comments were like.
This limerick from Tony deserves a wider audience: "The South Pole put Ben through the ringer, And thousands on his website would linger, But despite all the press, The fans think of him less, Ever since they saw he's a ginger."*
When I re-read Scott's diaries out here I always have a horrible feeling that we're perhaps in some way disrespecting the poignant and desperate nature of his last few days on the Ice Shelf by sharing things like this, but the more I read of the Terra Nova expedition (and see of it, in Ponting's incredible film The Great White Silence), the more I'm convinced that humour is a universal and timeless panacea that has helped many people through many dark hours out here in this ever-frozen corner of the world.
Tarka's and my plight may be nowhere near as desperate as Scott's, but I still lack the words to explain the physical and mental depths that we plumb each day, the leaden feeling in my body that I wake up with each morning and my surprise, looking down at my skin-and-bone legs, that I can still generate any motive power at all. This is proving a heck of a camping trip.
*N.B. it's just my giant beard that's ginger. Once upon a time when I used to have hair on the top of my head it was blonde.