Distance to go: 0 Mi

Distance

Ben and Tarka will cover 1800 miles starting from Scott's Terra Nova Hut at the edge of Antarctica to the South Pole and back to the coast again. That's equivalent to 69 back-to-back marathons hauling up to 200kg each (the weight of roughly two adult men) of kit and supplies necessary to survive.

Distances here are shown in statute miles.
Milestones - Take Two (Day 93)
Day 93: S81° 36' 12", E169° 5' 34.8"
Duration: 9 Hr 30 Min
Daily distance: 24.9 Mi
Distance to go: 295.1 Mi
Temperature: -9 °C
Wind chill: -17 °C
Altitude: 154 Ft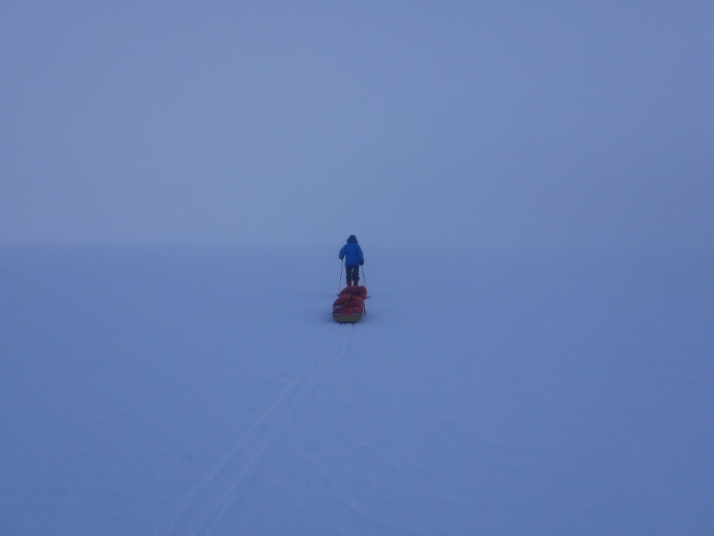 I realised that I'd given a blog post this title two days ago without actually writing about the milestones we're becoming increasingly obsessed by each day. Getting safely to the bottom of the Beardmore and safely through the Gateway on to the Ross Ice Shelf again has been a massive one for a while, then of course there are our string of depots dotted back to Ross Island. Aside from those, we have some arbitrary ones: losing site of the mountains behind us is one at the moment, spotting Minna Bluff, White Island, Dark Island, Erebus and Terror are big ones, and we're counting down each degree of longitude as well. Getting to single-figures as far as remaining days to go will be massive (we think we're 11 days away from finishing as I type this) and right now, getting through each day, 90-minute session by 90-minute session is often as far ahead as we can think.
Today was colder, with sunshine and patchy cloud when we set off, with the visibility deteriorating to near-zero again in the afternoon, and our morale slumping accordingly. Thankfully the surface has been really good on the Ice Shelf so far - the opposite of what we were expecting, and had been told to expect - and we're ticking along nicely with our light sledges. We're both as tired and as hungry as ever; I know a few people have asked why we're not taking a rest day, and the answer is that a) we don't have a huge amount of spare food until the depot-after-next (and we want to keep what we have spare for emergencies/storms/etc.) and b) we're keen to finish, get home to our loved ones, stuff our faces, have a shower and sleep in a normal bed as soon as we can!