Distance to go: 0 Mi

Distance

Ben and Tarka will cover 1800 miles starting from Scott's Terra Nova Hut at the edge of Antarctica to the South Pole and back to the coast again. That's equivalent to 69 back-to-back marathons hauling up to 200kg each (the weight of roughly two adult men) of kit and supplies necessary to survive.

Distances here are shown in statute miles.
Puttin' in Work (Day 44)
Day 44: S84° 49' 1.992", E165° 57' 1.440"
Duration: 8 Hr 30 Min
Daily distance: 20.7 Mi
Distance to go: 1276.3 Mi
Temperature: -14 °C
Wind chill: -24 °C
Altitude: 5318 Ft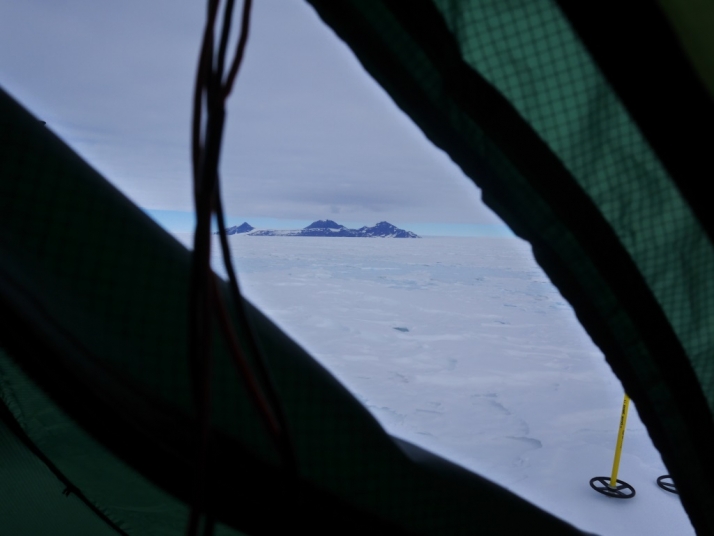 To borrow a line (or was it the title of a song?) from the rapper Gangstarr, today was all about puttin' in work. 20.7 miles in total (33.4km or 18 nautical miles) which, uphill on a glacier on a cloudy, windy day, dragging more than 100kg (220lb) each, when our last rest day was 28 days ago, we're happy with.
I'm not quite sure why we opened the taps like we did today. It was an unspoken pact; everything seemed to flow and gel, and we skied (or walked in crampons, it was fifty-fifty today) in the zone, as it were. Each time we swapped the lead there would be a nod, and a "Well done sir", or "Good job dude", but that was the extent of our mutual acknowledgement of the effort we were putting in and the results we were getting in return.
I don't know much about what Tarka was thinking today, but I remembered a line from a Japanese poet - I wish I could remember who - that goes something like: "We must embrace our pain, and burn it as fuel for our journey". A newspaper wrote an article on me and this expedition a couple of weeks before I left the UK, and I was surprised at the amount of vitriol in some of the comments that followed the piece on the paper's website. One finished along these lines: "As far as I can tell, this joker only has a string of failures to his name". In some respects this was true. In the space of four years I'd made three attempts to set a solo and unsupported speed record to the geographic North Pole, and each time I'd returned from the Arctic Ocean defeated and empty-handed. But with each attempt I learned a little more about nutrition, clothing, equipment, satellite communications, and with each passing year I poured my frustration into training harder, and into chipping away at the big plans I had for the south. Looking back, each of these failures was an invaluable stepping stone to getting where we are this evening, covering distances like this.
As I walked today, growing older with each heartbeat, as we all do, I thought of the person that typed that comment. I wished them well on their journey, and hoped that they would be able to embrace the hurt and misfortune and plain malice that we all meet at times in life, and that they too might be able to turn it into nuggets of coal to fuel their own glowing boiler. I thought too of Nelson Mandela - we heard of his passing via satellite phone - and wondered who and where my generation's Mandela might be; who next might lead like he did, as a paragon of everything good we humans have in us. Heady stuff indeed for a camping trip.
Today, and today's mileage, is dedicated to Tony Haile. Tony and I worked tirelessly and pennilessly together for a very long time to try to get the seeds of this mammoth expedition to sprout, but time and again we failed too. I know he's following our progress now and I assume it must be with bittersweet and mixed emotions. Tony, we wouldn't be here without you.
P.S. We didn't take any photos today, so I've just poked the camera out of the tent (the dangling cables are from our solar panels) to show you how much closer Buckley Island is now.