Distance to go: 0 Mi

Distance

Ben and Tarka will cover 1800 miles starting from Scott's Terra Nova Hut at the edge of Antarctica to the South Pole and back to the coast again. That's equivalent to 69 back-to-back marathons hauling up to 200kg each (the weight of roughly two adult men) of kit and supplies necessary to survive.

Distances here are shown in statute miles.
Ripples, Circles (Day 24)
Day 24: S80° 03' 40.92", E168° 37' 25.68"
Duration: 8 Hr
Daily distance: 12.2 Mi
Distance to go: 1615.1 Mi
Temperature: -9 °C
Wind chill: -9 °C
Altitude: 249 Ft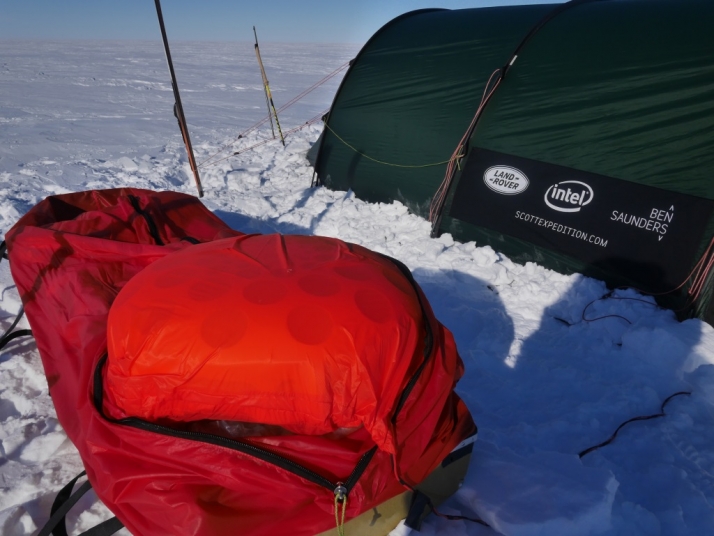 When I was sixteen years old and still at school, I had a part-time job in a shop in Canterbury called Field and Trek that sold outdoor gear. Upstairs, next to the shelves that displayed camping stoves and the odd lantern, was a door that looked like a cupboard, but actually led to the staff tea room. Inside was a small sink, a small fridge, a small microwave, a kettle, a window and two small wooden folding chairs that faced each other, so close that if the staff room had two occupants, their knees would almost touch. One Saturday I'd slept in too late to make a packed lunch so went out on my break to buy the biggest thing I could fit in the microwave (Marks & Spencer 'family size' lasagne) and swang by the library on my way back to work. The book I borrowed, In the Footsteps of Scott by Roger Mear and Robert Swan, went on to have a bit of an impact on me.
As a boy I loved stories of adventure and exploration, of mountains, oceans, jungles, deserts and space, and this one had a photograph of a man dragging a sled in Antarctica on its front. Under the clear plastic cover the library had added, the sky was an incredible shade of blue. I think part of me was sifting through these stories looking for clues about what it meant to be a man. I don't know if Robert realised quite where the echoes or ripples of his story - and it's a fantastic story of endeavour and challenge, of victory and loss - would reach, decades after the telling, but here I am now lying in a tent on the Ross Ice Shelf, camped a few miles away from where he and his team would have camped in the mid-eighties.
Robert Swan is one of this expedition's patrons, alongside Falcon Scott, Captain Scott's grandson, and he has been extraordinarily generous with his time and support in recent years. I'm still not a great deal closer to deciding what it means to be a man, but perhaps part of it is as simple as going out, living boldly, and sharing our stories, however they pan out. Casting pebbles with the journeys we make, and leaving tiny ripples in the universe.
Oh, and a corker of a day today. More than 12 miles again in eight hours, sunshine, no clouds and the faintest of breezes from the west. The photo is of our custom-made Iridium Pilot, the antenna we use to send our blog posts and images back via satellite. They're normally big metal mushrooms designed to be bolted to the bridges and decks of ships, so it took a bit of doing (and a lot of help from Intel and Porticus) to get this to its current lightweight, portable, solar-powered state. Onwards!