Distance to go: 0 Mi

Distance

Ben and Tarka will cover 1800 miles starting from Scott's Terra Nova Hut at the edge of Antarctica to the South Pole and back to the coast again. That's equivalent to 69 back-to-back marathons hauling up to 200kg each (the weight of roughly two adult men) of kit and supplies necessary to survive.

Distances here are shown in statute miles.
Skiing away from Cape Evans (Day 1 - PM)
Day 1: S77° 49' 15.6576", E166° 36' 49.3194"
Daily distance: 12.9 Mi
Distance to go: 1787.1 Mi
Temperature: -19 °C
Wind chill: -26 °C
Wind speed: 6.9 MPH
Altitude: 0 Ft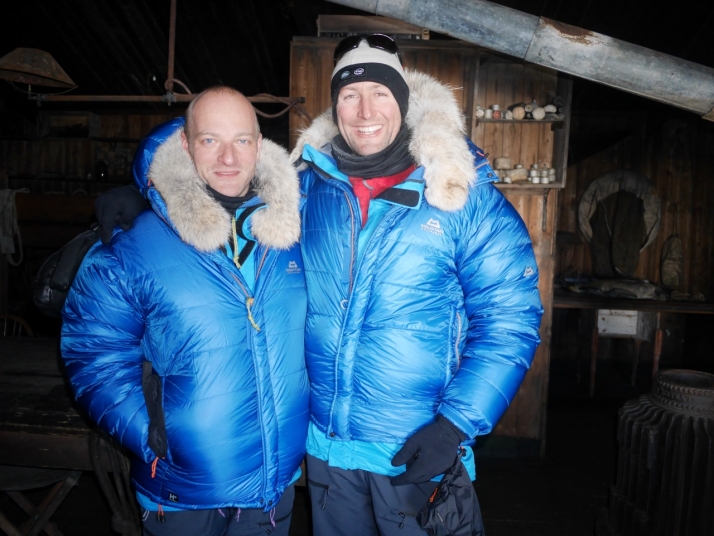 Visiting Scott's Terrra Nova hut was an experience that I'll treasure for a lifetime. I'd seen hundreds of photographs - the packing case walls, Scott writing at his desk, Wilson's specimens, the tenements. I'd watched television presenters walk through it, I'd seen original items of clothing and equipment at the Scott Polar Research Institute and I'd strolled through the Natural History Museum's life-size replica hut. But nothing could have prepared me for the moment of stepping through that doorway into the still, dark air.
The cliches are all true: the smell (musty, smoky, homely) is what you notice first, as your eyes adjust to the gloom. Then it really does look like it's only recently been abandoned, as if the men will return at any moment. Cups, spoons, pots, toothbrushes, half-darned socks, reindeer skin sleeping bags are all left behind. It's an astonishing place, in equal parts cosy and eerie.
It was cold and windy after we left the hut, and we camped nearby, waking up to a tent lined with frost and half-buried in drifting snow. Sleep-deprived and grumpy wasn't how I was expecting to start this expedition, but my mood evaporated when I climbed out of the tent and looked across at the hut, and then up to the summit of Erebus.
The weather improved as the day went on, and the surface - all sea ice so far - was perfect.
We're now camped on the sea ice near McMurdo, and we'll be back on land tomorrow. Interestingly the snow that we dug up to melt near the shore of Cape Evans had salt in it, so I had to get out of the tent again to go inland for some better snow. Luckily we filled the drybag with snow again this morning and dragged it with us, as the tiny amount of snow we're parked on is also too salty to drink.
I'm over the moon that the technology is all working brilliantly (thank you Intel!) - we'll start sending back video soon, and being able to upload lots of relatively big photographs is something I still can't quite believe we can do from the tent.