Distance to go: 0 Mi

Distance

Ben and Tarka will cover 1800 miles starting from Scott's Terra Nova Hut at the edge of Antarctica to the South Pole and back to the coast again. That's equivalent to 69 back-to-back marathons hauling up to 200kg each (the weight of roughly two adult men) of kit and supplies necessary to survive.

Distances here are shown in statute miles.
Beasts of Burden (Day 2)
Day 2: S77° 51' 56.8794", E167° 06' 38.6388"
Duration: 5 Hr
Daily distance: 7.8 Mi
Distance to go: 1779.3 Mi
Temperature: -16 °C
Wind chill: -25 °C
Wind speed: 11.5 MPH
Altitude: 108 Ft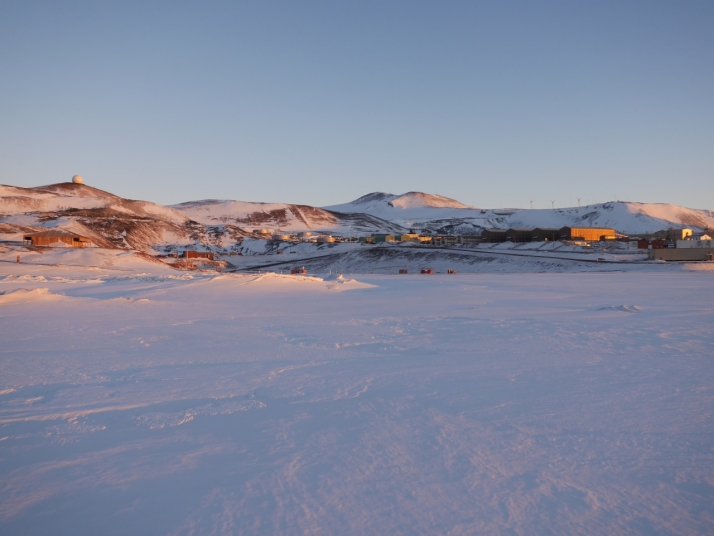 My mum asked me in a satellite phone message today (we turn the phone on every evening to check for messages, and to call in our position to Andy) if it had sunk in that I was here yet. In many ways it hasn't, and life has certainly taken a turn for the surreal recently. We skied past four seals today, lolling around on the ice, and I can't quite believe that we're trundling past landmarks - Razorback Island, Tent Island, Inaccessible Island, Hut Point, Discovery Hut, White Island - that I've only read about in books.
But if a reality check were needed, it came when we started making our way from the sea onto the Ross Ice Shelf, with our fully-laden sleds. In the (perhaps slightly optimistic) spreadsheet I've been tweaking for several years now, we're pulling a shade less than 200kg (440lb) each right now, and I wish I had the words to tell you what dragging that much behind you feels like. At one break, Tarka and I wondered if anyone else on the planet was working quite as hard as we were this afternoon.
His technique is to plod, very slowly, without stopping for an hour. Mine is to ski faster, but to stop for a breather every now and again. Thirty paces was about right, and I'm not sure the terms "ski" or "faster" really mean much here. Maxed-out, we can manage about two kilometres per hour with these loads, and it's not much fun.
Apparently someone asked if we had a clever way of detecting salt in snow. The answer is no, we just made a hot drink with some and it was disgusting! Oddly on North Pole expeditions (on the sea ice of the Arctic Ocean) the snow is always salt-free and fine to drink, so I was puzzled yesterday.
Oh, and Marjory Foyle, I hope you're reading these updates as your wish was granted yesterday. Sorry it took a few years!