Distance to go: 0 Mi

Distance

Ben and Tarka will cover 1800 miles starting from Scott's Terra Nova Hut at the edge of Antarctica to the South Pole and back to the coast again. That's equivalent to 69 back-to-back marathons hauling up to 200kg each (the weight of roughly two adult men) of kit and supplies necessary to survive.

Distances here are shown in statute miles.
The Cloudmaker, Kyffin and the Crampons (Day 85)
Day 85: S84° 19' 9.84", E169° 43' 40.08"
Duration: 7 Hr 45 Min
Daily distance: 18.8 Mi
Distance to go: 484.5 Mi
Temperature: -4 °C
Wind chill: -12 °C
Altitude: 3061 Ft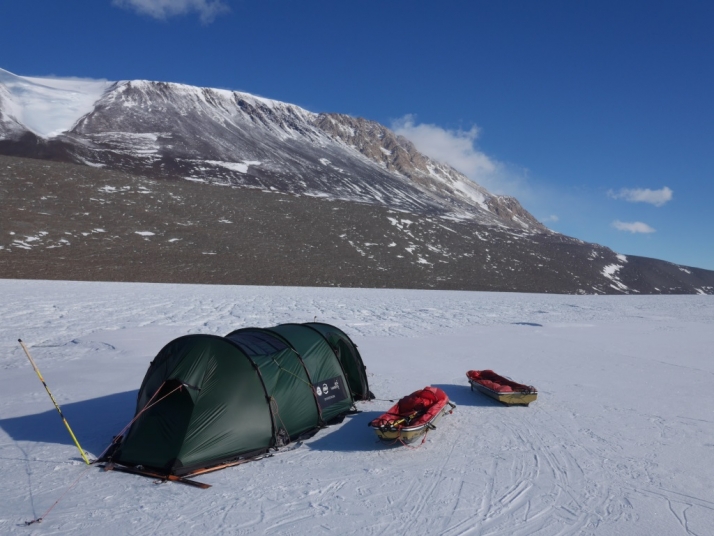 We're back among old friends today (well, familiar landmarks at least) and we're camped this evening under the giant flanks of the mountain Sir Ernest Shackleton named The Cloudmaker* with a clear view north down the Beardmore glacier towards the unmistakable - and I think quite beautiful - Mount Kyffin, a jagged, ridged peak that lies almost opposite our exit on to the Ross Ice Shelf. Conditions, as ever, have been tough today, and we started moving this morning in low cloud, wet snow and near-zero visibility, which made things quite stressful.
The weather improved as the day went on, which was handy as we had to navigate a tricky blue ice descent before we started to draw level with The Cloudmaker. Tarka's crampon repair held up admirably until the last session of the day, when the Dyneema tape he'd used to bind it together finally wore through, so we stopped ninety minutes early this evening to repeat the same repair but using steel wire this time. Worryingly his other crampon has cracked, though mine are still intact and looking good, which is remarkable given my tendency to wreck equipment.
Physically we're both feeling very battered; the repeated jarring and impact on our joints as we descend this 110-mile glacier, much of it on a steel-hard blue ice surface, means we both have sore feet, sore knees, sore hips and sore elbows. And as our joints have now covered 2,125km or 1,320 miles out here, they were probably pretty creaky before we started going downhill. Sodium diclofenac (Voltarol) has become our drug of choice during the day, and we've started raiding our supply of Tramadol at night, partly as Tarka's thumbs are so painful now it's warmer that I think he struggles to get to sleep.
We're both hungry most of the time we're awake, we've once again taken to licking empty energy bar wrappers and sucking the white fat out of the plastic our slices of salami are vacuum-packed in. Keeping a clear train of thought for more than a few moments during the day is becoming harder, and the vivid food fantasies we had before we were resupplied are kicking in once more with a vengeance. We often discuss our imaginary feasts at break times. One of Tarka's today was sushi ("Cheap sushi, on a conveyor belt") and mine was roast pork with crackling, apple sauce and really good roast potatoes.
Now the finish line is theoretically well under three weeks away, we're both also getting wildly excited about sitting down in a chair at a table, eating with a knife and fork, drinking out of a glass or a china mug, having a shower and, of course, enjoying the luxury of a sit-down loo. We haven't done any of these things for nearly three months.
*At least I think it was Shackleton that named it. I could well be utterly confused, especially as my mind seems unable to do much except hold a Homer Simpson-style focus on thick, crispy pork crackling...