Distance to go: 0 Mi

Distance

Ben and Tarka will cover 1800 miles starting from Scott's Terra Nova Hut at the edge of Antarctica to the South Pole and back to the coast again. That's equivalent to 69 back-to-back marathons hauling up to 200kg each (the weight of roughly two adult men) of kit and supplies necessary to survive.

Distances here are shown in statute miles.
The Land of the Midnight Sun Dog (Day 17)
Day 17: S79° 00' 46.38", E168° 32' 20.1"
Duration: 6 Hr 30 Min
Daily distance: 7.8 Mi
Distance to go: 1687.8 Mi
Temperature: -16 °C
Wind chill: -29 °C
Altitude: 174 Ft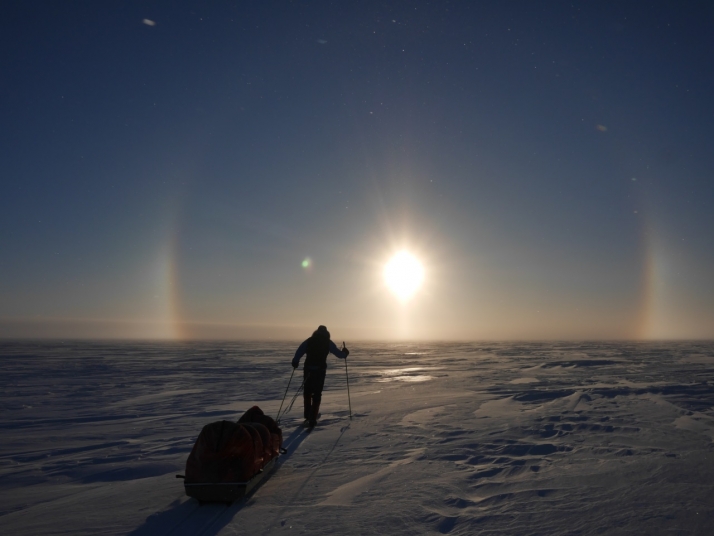 Today was pretty horrendous. It was alarmingly cold at times (the weather data we send back is taken first thing in the morning and conditions often change during the day), the visibility was mostly poor-to-non-existent, and the surface was hellish; soft, deep, sticky snow that made pulling our heavy sleds feel like dragging anvils through ploughed clay.
The one redeeming bit of natural splendour came at midday our time (actually midnight here) when the sun is due south and we ski almost straight toward it. As Tarka took the lead, the clouds parted for thirty minutes and we were treated to a parhelion, or sun dog, a circle of light around the sun caused by ice crystals in the air refracting the sun's rays.
I'm pretty certain it's a phenomenon that's only seen at high latitudes, and it was our first proper one down here. Right now we're battening down the hatches as Andy gave us a weather forecast over the satellite phone that included 25-30 knot winds starting tonight, so we'll see how things go.
It certainly feels like Antarctica isn't giving us much of a break at the moment. Our daily distances still seem modest but each inch comes at an extraordinary physical cost.