Distance to go: 0 Mi

Distance

Ben and Tarka will cover 1800 miles starting from Scott's Terra Nova Hut at the edge of Antarctica to the South Pole and back to the coast again. That's equivalent to 69 back-to-back marathons hauling up to 200kg each (the weight of roughly two adult men) of kit and supplies necessary to survive.

Distances here are shown in statute miles.
The Last Degree (Day 60)
Day 60: S89° 01' 33", E157° 38' 49.44"
Duration: 9 Hr 15 Min
Daily distance: 21.7 Mi
Distance to go: 970.3 Mi
Temperature: -27 °C
Wind chill: -40 °C
Altitude: 9875 Ft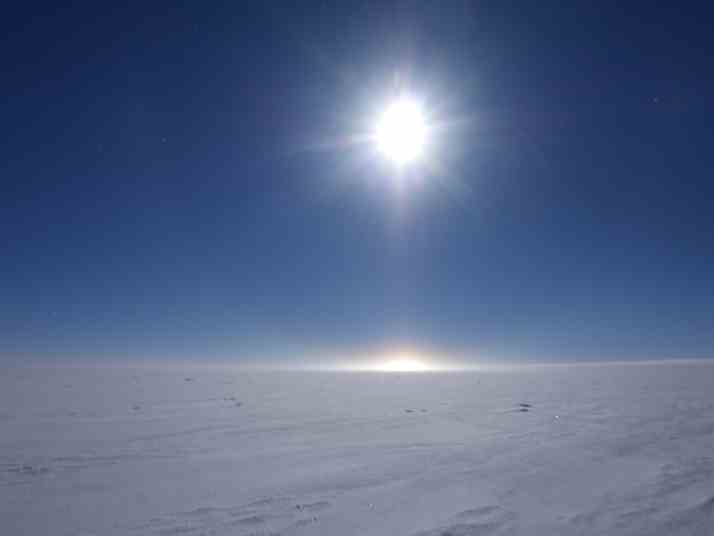 If you eavesdropped on our daily banter up here, you'd be forgiven for thinking Tarka and I aren't enjoying this expedition all that much. Our conversations at break times, when we turn our sleds so we can sit on them next to each other with our backs to the wind, usually go something like this: Tarka: "What on earth are we doing with our lives? This is ridiculous." Me: "Tell me about it. I'm retiring after this trip." Tarka: "Mate, I'd already retired from this nonsense..." Etc.
But there are occasional moments of magic. We talked briefly today of what it must have felt like for Shackleton and his men as they turned for home near here, and for Scott and his team as they headed on to the Pole. For us, the South Pole represents people, air traffic, vehicles, noise, buildings, warmth, safety; it's a huge distraction and we're keen to arrive in the dead of night, take our photos by the Pole and get away again before anyone notices us. For Scott and Shackleton it was a point in the centre of a vast expanse of nothingness. The feeling of remoteness and isolation they must have felt at this stage of their journeys must have been immense.
We're also talking about food more, and have both noticed that our senses of taste seem to have become sharper, and that we're getting enormous pleasure from all of our rations. I often close my eyes at breaks while I'm munching away, and I suspect very few people have derived quite so much pleasure from a "Cocoa Delight" Nakd Bar, a "Nutty" 9Bar, a "Belgium Chocolate" Organic Food Bar, or ten squares of Green & Blacks 85% dark chocolate, all of which featured in my 6,000 calories today. I'll take a photo of a whole day's food soon, so you can see how we're fuelling our progress.
We would also like to thank everyone who was involved in sending us a message in Intel's Christmas card which we reciveed last night on our Ultrabook. It's wonderful to have such support from around the world. Thank you all.
We bagged another 35km today and have crossed the 89th degree of latitude, which we're pleased with, though we're both feeling as tired as you'd probably expect us to now we've been out here for two months (with two days off) and have covered about 32 back-to-back marathons. It was -40 degrees Centigrade windchill all day today and we were outside for 12 hours, and I often feel it's almost miraculous that we can get up again every morning and do the same thing. Apologies for another scenery shot, but the sun was creating an amazing effect on the horizon today, which I'm hoping you can see after we've compressed this photo to send it back via the phone.