Distance to go: 0 Mi

Distance

Ben and Tarka will cover 1800 miles starting from Scott's Terra Nova Hut at the edge of Antarctica to the South Pole and back to the coast again. That's equivalent to 69 back-to-back marathons hauling up to 200kg each (the weight of roughly two adult men) of kit and supplies necessary to survive.

Distances here are shown in statute miles.
Making Progress (Day 23)
Day 23: S79° 53' 5.16", E168° 37' 24.48"
Duration: 8 Hr
Daily distance: 12.1 Mi
Distance to go: 1627.3 Mi
Temperature: -13 °C
Wind chill: -27 °C
Altitude: 220 Ft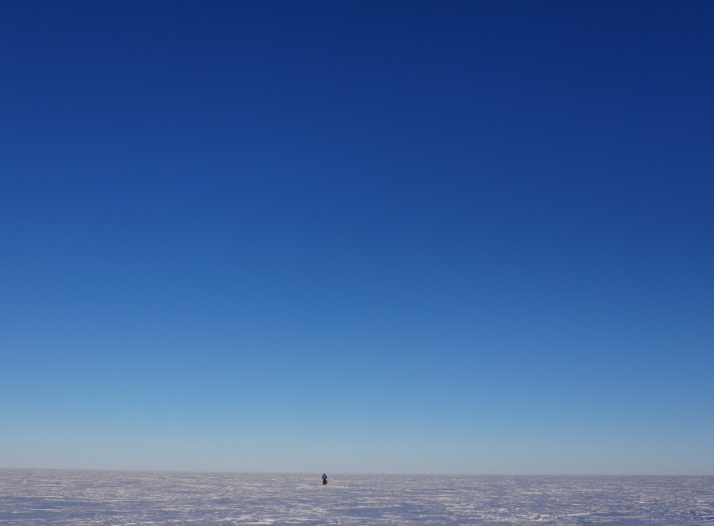 A tough, tough day today but, as Tarka pointed out as I started melting snow in the tent this evening, we can't complain too much in public as our suffering is entirely self-inflicted. We scored just over 12 miles (10.5 nautical miles) for our eight hours of toil today, which we're pretty pleased with. The wind has died down a little, but we're still heading straight into it, so it's been another day with our faces entirely covered.
I'm sad to have missed the premiere of Al Humphreys' film, Into the Empty Quarter, at the Royal Geographical Society in London this evening. Amusingly Al gave us a copy on an SD card so we'll be watching it in the tent before too long.
As promised, a bit about depots: as we're walking to the South Pole and back along exactly the same route, it makes sense for us to depot food and fuel along the outward journey so we can ski from cache to cache with lighter sleds on the return. The strategy we came up with was to leave smaller depots early on - ours have been of two days' food each at the moment, then one at the foot of the Beardmore Glacier, another at the top, and at least one halfway across the Plateau. We anticipate leaving seven in total, and each depot is sealed in a drybag, buried, and marked with a 1.5m carbon fibre pole (which is also tied to the drybag) with a black flag in the top, and is recorded as a GPS waypoint, which I also write in my diary as a backup, and relay to Andy (who is finally back in the UK after being stuck on the Chilean side of Antarctica for three weeks waiting for a weather window to fly home!).
Some of you with eagle eyes spotted in a recent photo that we've also depoted the rear sections of our sleds. We did this seven days ago as we were at a point where we could fit all our equipment, food and fuel into just the main section of the sleds, and it makes sense to reduce all of the extraneous weight (the rear section of each sled was ~4kg) we have to drag daily so we made the decision to do this sooner than we had originally thought it would be possible to do so. (The rear sections fit inside the back of the main sleds when we pick them up again.) The good news is as our sleds become lighter we'll begin to cover more miles daily speeding up our progress to, and back from, the South Pole.
If, for whatever reason, we're unable to pick up our depots on the return journey early next year, ALE (our logistics provider) are aware of the coordinates of each one and will pick them up for us using a Twin Otter ski plane. We've already paid ALE a bond to cover the cost of this, and wouldn't have been able to start the expedition if we didn't have the funds in place to do this. As a private expedition we need a permit to operate in Antarctica (in fact we have two, we operate under ALE's US permit and we were also permitted by the UK's Foreign and Commonwealth Office to visit the Terra Nova and Discovery huts on Ross Island) and part of the approval process is proving that we are leaving no waste in Antarctica, and that our journey will have no lasting environmental impact.
Last up, we've been inundated with hundreds of quesitons (it's fantastic to see your wonderful messages of support - thank you). We can't promise to answer them all as we're rather busy dragging sleds, and pretty exhausted every evening, but we'll certainly answer a selection each week. The team in London are also busy going through them and will pop a post up shortly with more on this.
Thank you once again for all your support.